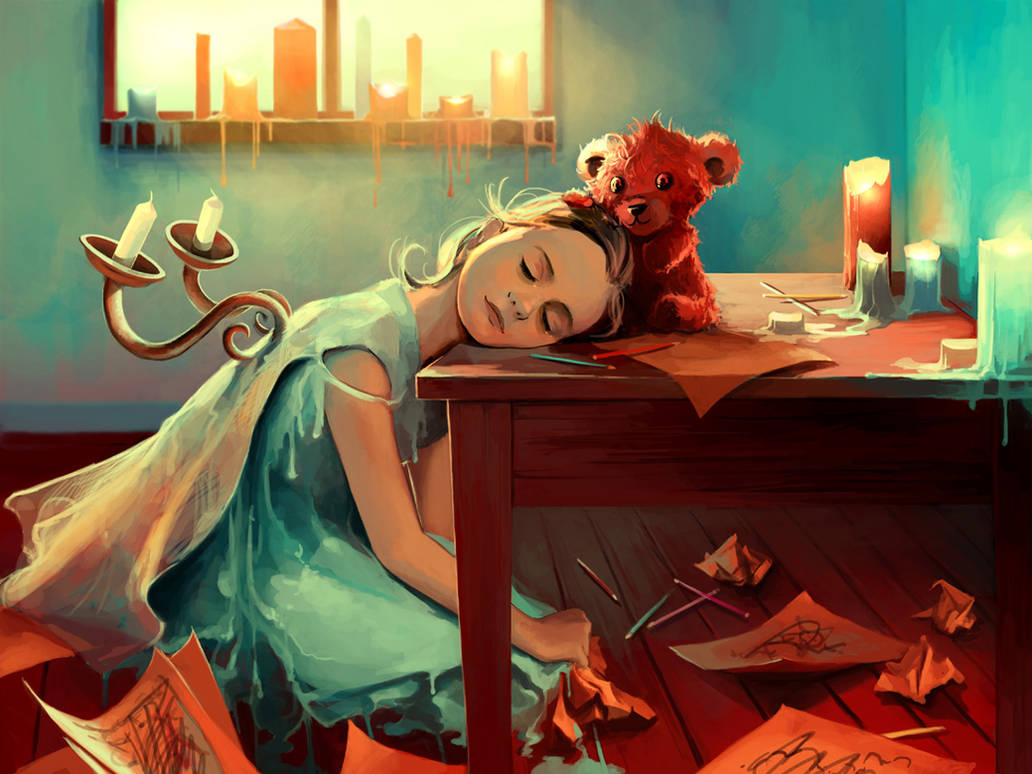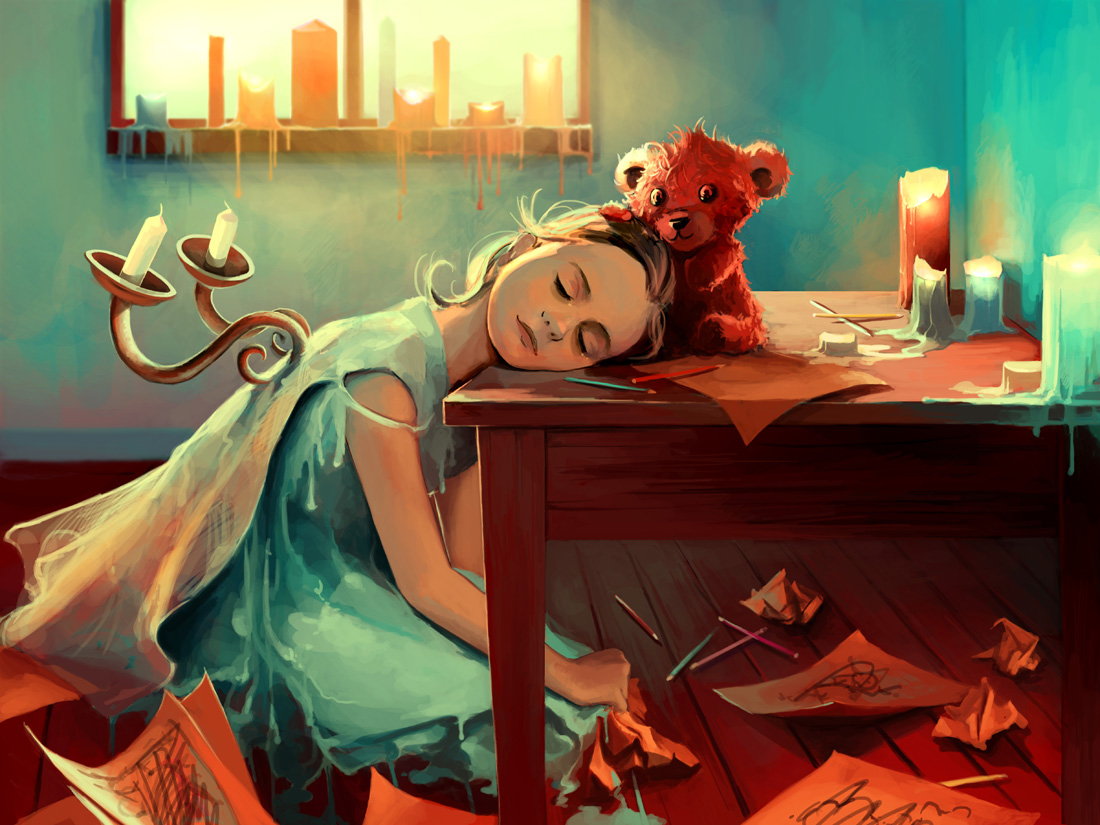 Watch
>>>>>> Limited Edtion Print ( numbered and signed by me ! ) : HERE<<<<<<<<
Childhood of Amber
When she was six, she didn't presume for a swain,
All the boys tried to attract her attention, in vain.
That's the sea of Perfection, she expected to swim,
These colorless boys rivaled to kindle her, with vim.
But what really melted the heart of this white swan,
Was proving, without eraser, an Ideal could be drawn.
Time : 25 hours
Software : Photoshop CS2
Tool : Wacom Intuos 4M
Photoref :
fav.me/d1gzqeb
Work in progress :
Daily Deviation
Given 2014-03-28
When she was six
by
AquaSixio
takes us on journey back to our childhood where dreams and endless possibilities exist. The artist's masterful use of color and light allow the story to truly speak for itself. (
Featured by breerothman
)
What I see when I look at this is true, raw childhood with its hopes and dreams and fantasies.

The color scheme really works for this piece. The room with its blue walls is cold and undecorated, but the warm glow from the wood and the candles allows the blank room to be a place open for any kind of possibility, rather than something dark and stagnant. It becomes more like a new canvas upon which she can paint her aspirations.

I like the teddy bear, which appears almost to be alive. It is warm, too, and protecting the girl with its hand on her head... or perhaps it is sanctioning her dreams.

The candles in this piece are significant to me, as they represent life and a sort of striving for something. On the table they are burnt low, showing that this little girl spent a lot of time trying to draw out the ideal image, and the ones in the window still burn even though the sun shines, which tells me that she fell asleep with the determination to find perfection still on her mind. Perhaps in sleeping, she is dreaming of the perfection she seeks, because of the calm smile on her face.

I have to wonder if, when she wakes and/or when she manages to create the perfect drawing, her own candle-wings will alight with inspiration and satisfaction.

This piece is touching and sweet and beautiful. Well done.
The Artist thought this was FAIR
102 out of 106 deviants thought this was fair.
My native language is Russian, so forgive me, dear artist, when you will read this, because I'm sure my English is bad. However, let's start. The picture is very beautifull. So ful of light and gently, I think it's spring or early sumer. Am I right? Looking at this sleeping girl, it seems to me that she's having a very good peaceful dream. The girl herself is very nice and sweet. I suppose that she looks like a little daughter of my mother's best girlfriend. By the way, my father thinks so, too. "Is it Varya sleeping?" - he asked me. - "Where did you get this photo?" "It's not a photo, dad", - I smiled, - "it's drawing. It was made by artist." "Wow!" - said dad. - "Amazing!"
You know, I agree with him. It's really amazing. I also fall in love with her plush bear. So nice and lovely! This bear is almost alive, I imagine.
Thank you very much for nice, warm scene of childhood.
The Artist thought this was FAIR
19 out of 19 deviants thought this was fair.