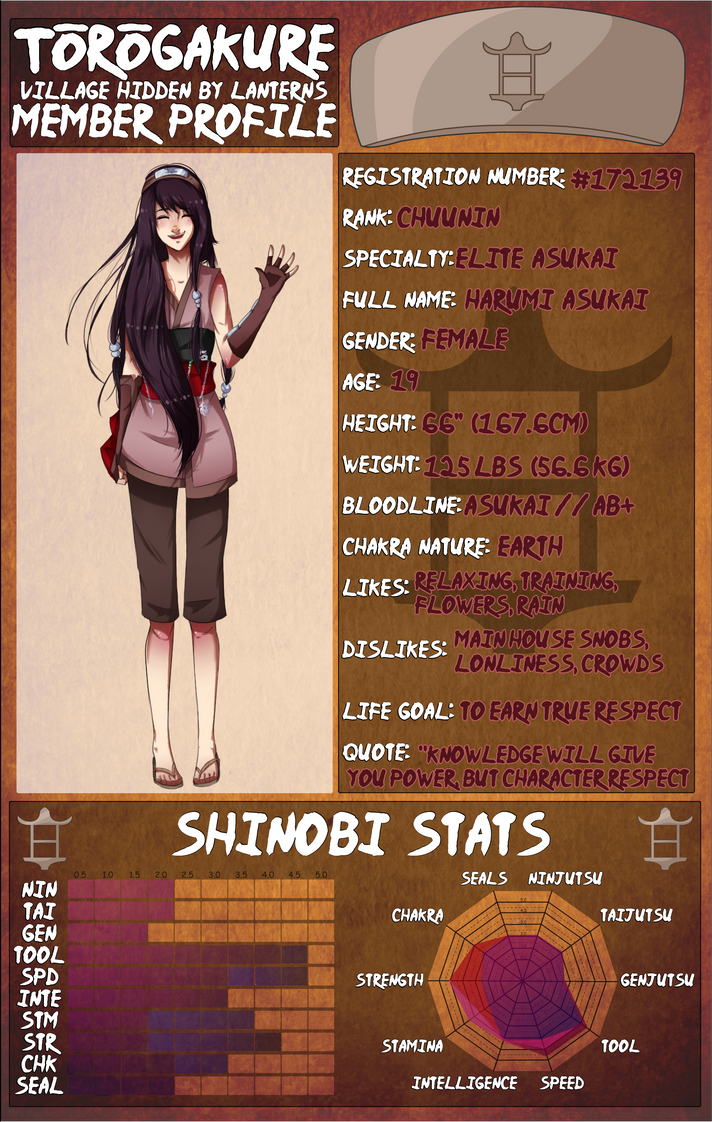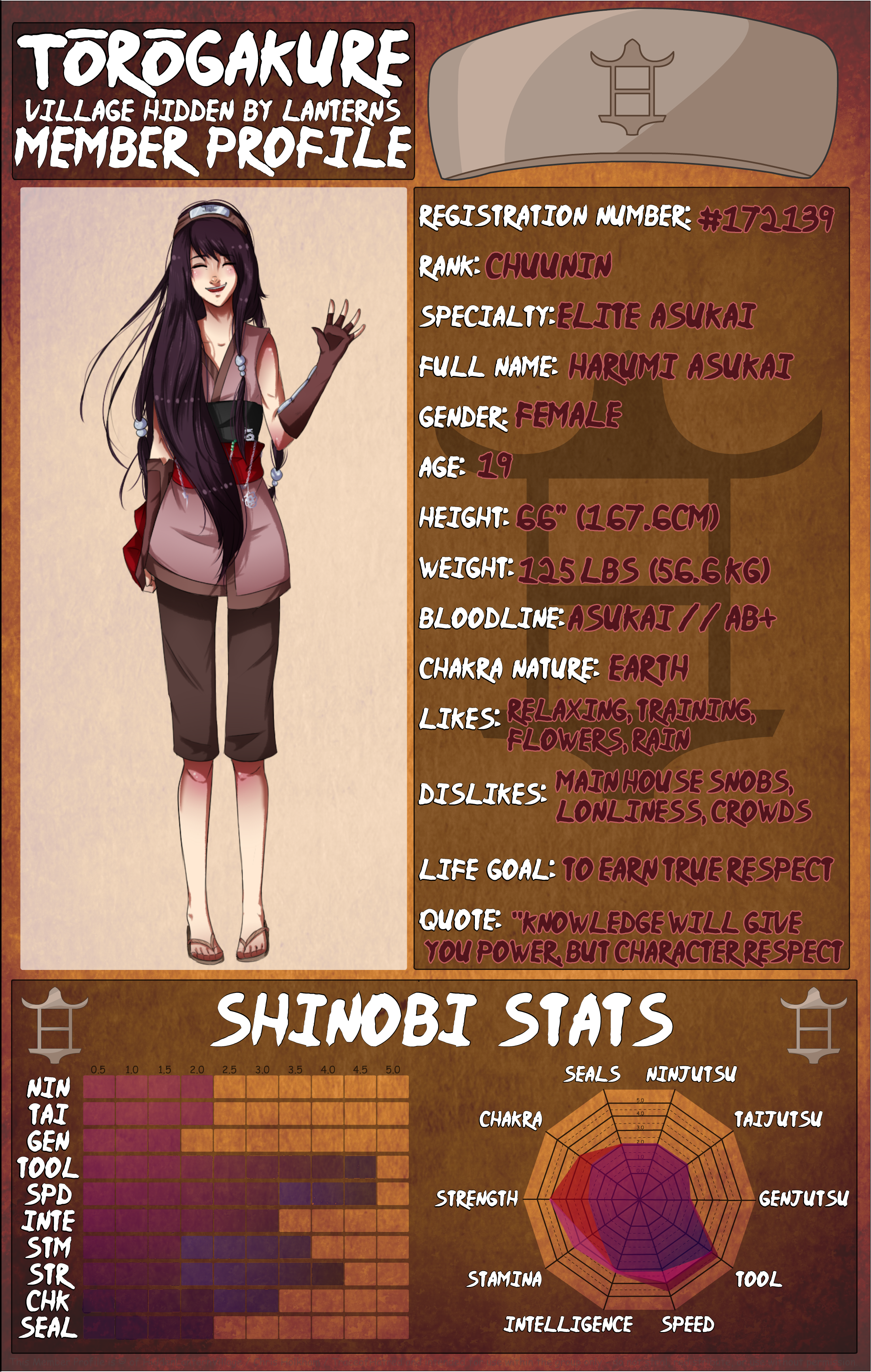 Watch

*Capped out for Jounin exam participant~*
Medical Information (Before - After):
Registration #:172139
Official Rank: Chuunin
Full Name: Harumi (
晴美
) Asukai (飛鳥井)
Gender: Female
Age/DOB: May 21st, 19 years old
Height: 5'6''
Weight: 125 lbs
Bloodline/Type: Asukai - AB
Chakra Nature: Earth
Likes, Dislikes, Drives, and Motivations:
needs to be updated a bit
Before the Time-Skip:
Likes:

-rain

-flowers

-gardening


-desserts
- kids

-stars

-festivals

-silence

-fruit

Dislikes:

-loud noises

-fish

-verbal conflict

-loudmouths

-dry weather

- snow

Inspirations:

- Yamato III

- Yuuna

Life Goals:

- Become a notable person in history and to prove herself to the main house
After the Time-Skip:
Likes:

- rain

-night time

- being with friends and family

- fruits

- flowers

- water

- stars

- children

- relaxing

Dislikes:

- main house snobs

- fish

- unnecessary conflict

- snow

- political issues

- people who lack respect

-feeling lonely and/or unwelcome




Inspirations:

- Yuuna

- Tarou Kitsune

- Elite Asukai

Life Goals:

- Protect those she loves
- To become a great ninja
- Gain true respect
Notable Changes during the Time-Skip:
- During the attack on the village Harumi lost her teammate, Kuro Kitsune, After attending the funeral she developed a strong need to make sure that her other teammate, Inabakari, would not die in battle as well. She tends to put his needs first when it comes to missions and woud be crushed if he were to ever get hurt.
- Since the Asukai clan's split she's developed an extreme dislike for the leaders of both houses as well as her relatives, specifically her mother, who don't want her to associate with anyone of the main house. She believes it is ridiculous to treat the secondary house as lesser ninjas simply because of their genetics.
- As she is an adult now her mother wants her to at get into he politics of the village. And though she supports Akihito ad the Phoenix Party (she believes an Arikage from a new generation could unite the clans) she despises that this is splitting the village in two.
- Before the timeskip Harumi refused to get involved in verbal and physical conflict. As a result she never really stood up for herself. She believed that avoiding conflict would bring peace. After the timeskip she has no problem standing up for herself when needed, even if it means verbal conflict. She grew to understand that conflict is sometimes needed to grow and bring unity.
-More to hopefully be added
Important Events during the Time-Skip:
- During the Kitsune/Asukai brawl Harumi was present. Although she did not participate in the assault Harumi saw what she believed to be a great injustice. That event caused her desire to become a more respected clan member.
- During the timeskip she becomes an Elite Asukai
Additional Information:
- She keeps Kuro Kitsune's bracelet with her at all times (see
fav.me/d72ugt7
)
- She takes a light interest in dating
- more information will be added as I figure out her relationships with others