Hey frens happy new year!
New year new me!
So like bad news is, this account is probably going to be, for the most part dead. I haven't really watched mlp lately, so lack of inspiration. Don't get me wrong, I still love drawing the characters! I still may post occasionally. Also even if I'll most likely never post as often as I used to, I will most definitely be on this account to look at art of people I've watched! There's one big piece I wanted to finish up so hopefully that will be done sometime? I still do draw however! Just not pones, also I post very infrequently. Here's a sneak peak of something I worked on over the break! C: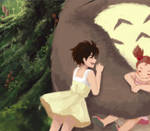 My other account is
Astruma
if you still would like to see some non-pone art.
Okay now that the basics are over I just wanna talk about why I was super inactive. I used to lie a lot and say it was because I had my studies which although was partially true, but like truth is I had the time to draw if I wanted despite my studies. U know what it was? owo mental health issues. I was basically one big dumb darn idiot sandwich and let it get really bad without doing anything about it for years and was like "lmao no big deal". I won't go into too many details but like I fucked myself real bad. Starting to do stuff that'll actually improve that. So for all you big doofuses out there, you've heard "it gets better" well lemme tell you it also can get a lot worse if you just let it sit and get worse. If you're dealin with mental issues please uwu get uwu some uwu help uwu.
Thank you for listening to my TED talk. No I'm not a furry I just really like uwu.
Anyways cheers and I hope you all have a super stellar 2019.