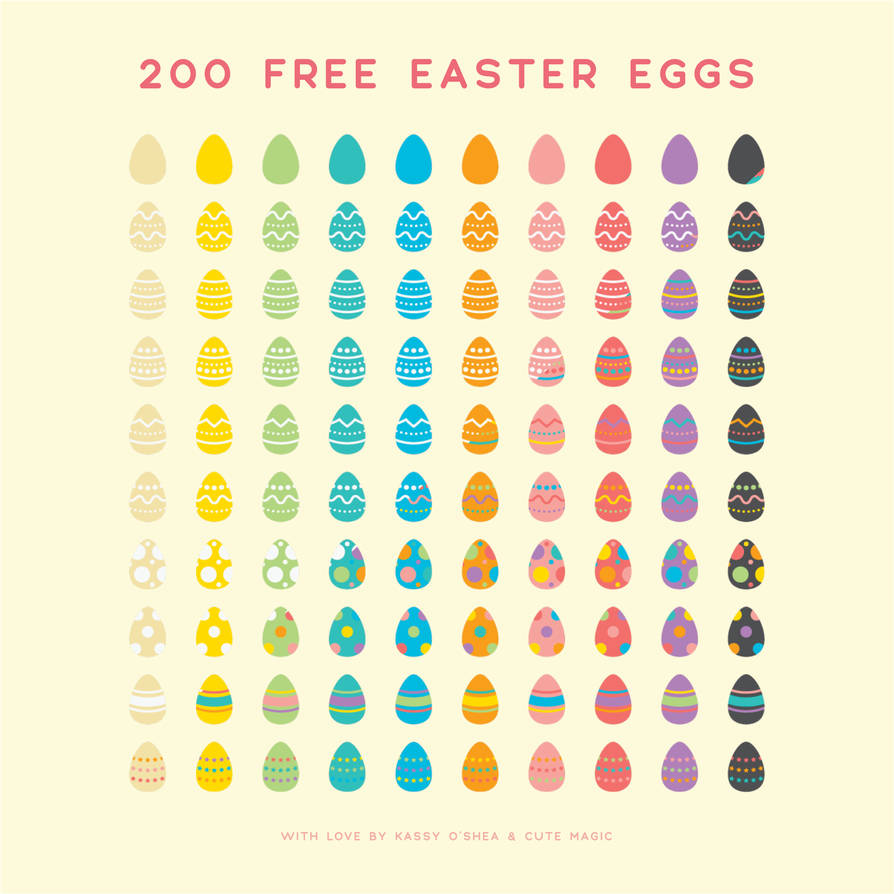 Need some vector easter eggs for your personal or commercial project? I have created 200 free digital vector Easter eggs that include 100 eggs with one colour and light decorations and 100 eggs with multiple colours.

For personal and commercial use, no credit or attribution required (unlimited use). Have fun and create awesome things!

Files include;
- 1 .ai
- 1 .eps
- 1 .svg
- 4 .png / 1000 x 1000 pixels
- 2 .jpg / 1000 x 1000 pixels
- 200 .png / 52 x 71 pixels (100 in each style)
- 200 .png / 205 x 282 pixels (100 in each style)
- 200 .png / 409 x 563 pixels (100 in each style)

Have a problem? Let me know, and I will try to help.

Disclaimer: Files are provided 'as is' and I take no responsibility or liability for any problems that may arise. Please use the design in good faith and for nothing illegal or damaging.

Note: Preview image shows a sample of the two styles, with half simple two colours and half multi-coloured.

With love by Kassy O'Shea & Cute Magic (cutemagic.com)

Reply

As mentioned in the description the preview includes a sample of half with simple two colours and half multi-coloured. The zip file contains the full 200.
Reply

Oh, I should've read first.
Reply

That's okay! Hopefully, it might clarify for other people who might think the same. I had wondered if that would be a problem when I was creating the preview. But because there are so many I wanted to use a size that showed some of the detail and not made them appear tiny haha.
Reply