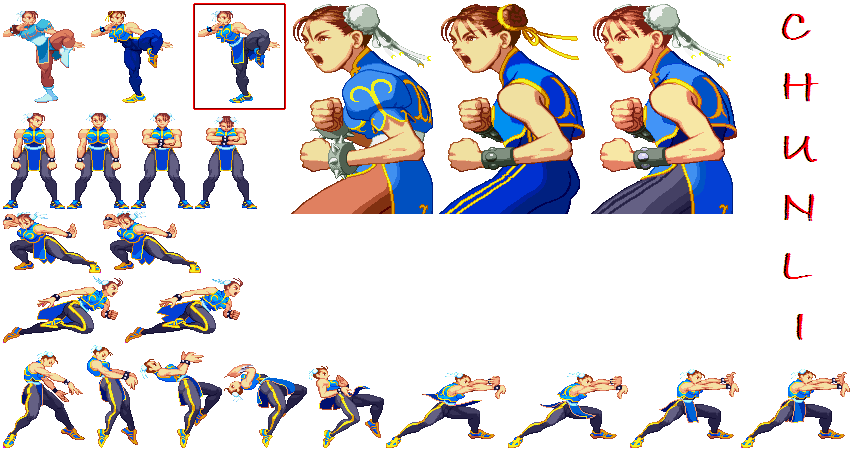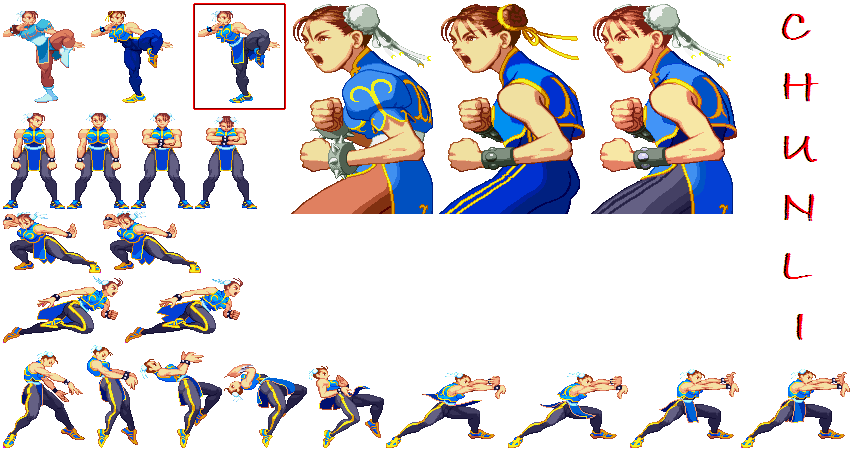 Watch
From the abandoned project.
Was also planned to be used for a Street Fighter vs Darkstalkers project for mugen by Phantom of The Server, but that also got scrapped.
This is a simple example of how to franken-sprite two different sprite sets together and come up with a new look.
As I mentioned before, this Chun-li costume was completely borrowed from and inspired by Jeff Axer's illustration
[link]
Sprite sheet constructed with MS Paint.
Chun-Li and Street Fighter are copyright of CAPCOM

Reply

Escuche tu trabajo anteriormente cuando posteaste la primera vez. Muy buena calidad!

Te recomiendo que abras un post sobre tu projecto en Mugen Fighters Guild.

Recien es una comunidad con mucho talento de spriters y estoy seguro que encontraras ayuda.

Exito Mike77154!
Reply

Hey buddy did you still making CPS2 sprites, Because I want to propose to you to koin to a project of mugen game, I a musician (I Have a channel of CPS2 music on Youtube), but I edit some chars and I am making a fangame that mix Fatal Fury with Street Fighter and original chars
Reply

Hello Mike77154

I am honored to be invited, but I have too many projects on my plate right now and cannot commit. BTW, I just wanted to share with you that I did not do these from the ground up...I simply gathered Chun-li's Sprites from Street Fighter Alpha 3, MVC2 and her Athletic costume sprites from Street Fighter Alpha 2 and started to sort of frankenspriting the two sprites together. It is not hard to do, but does indeed require time and some patience to get her belt area looking right.

I would like to wish you luck on your project and I will also be watching! Cheers!
Reply

look. I am bad spriter IF you want check my channel, my sprites are Real bout Special with recoloring and a little of pixel edits, Really Im pretty bad and ugly spriter, but If you want to play the game when I release it, I will be glad If you are the first in Try it


something more, did you speak spanish?
Reply

I like the OST you have going for the game! You are talented. Very nice work!
Listen, I would love to help but I honestly can't with all the projects I am currently working on I barely have room for my own Art! I hope you understand.
I used to make Mugen creations up until some time ago. Here is my old Mugen page if you are interested >>>
maxbeta.webs.com/mugen.htm
If there is anything of your interest and the links don't work, let me know and I will do my best to get it for you.
Yes, please let me know when your game is released. I would love to play!
Spanish is my first language!
Reply

bueno amigo, y sabras de alguien que sepa spritear en estilo CPS2, por cierto el juego lo voy a hacer en espaņol e ingles e incluso ando haciendo un OST y un AST (soundtrack Real u orquestado)
Reply

hey buddy, can I use your edit of chun li for a Mugen Char for my game please?
Reply

Go for it! Keep me posted if you ever release her!

Reply

Fabulous

!! I loved them all

!!!
Reply