Description
UPDATE:
all calendars are printed for the year
2022
!
calendar 2014 featuring selection of 12 artworks from this year! my personal work is like a little adventure itself so I wonder where it will take the next year... there is probably a little bit of a hint within :} calendar dimensions 11x8.5 (inches) aka 28x22 (cm)
Click >>HERE<< to get one!
Mini Dinos Calendar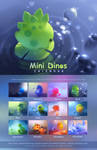 Image details
Image size
600x927px 478.76 KB