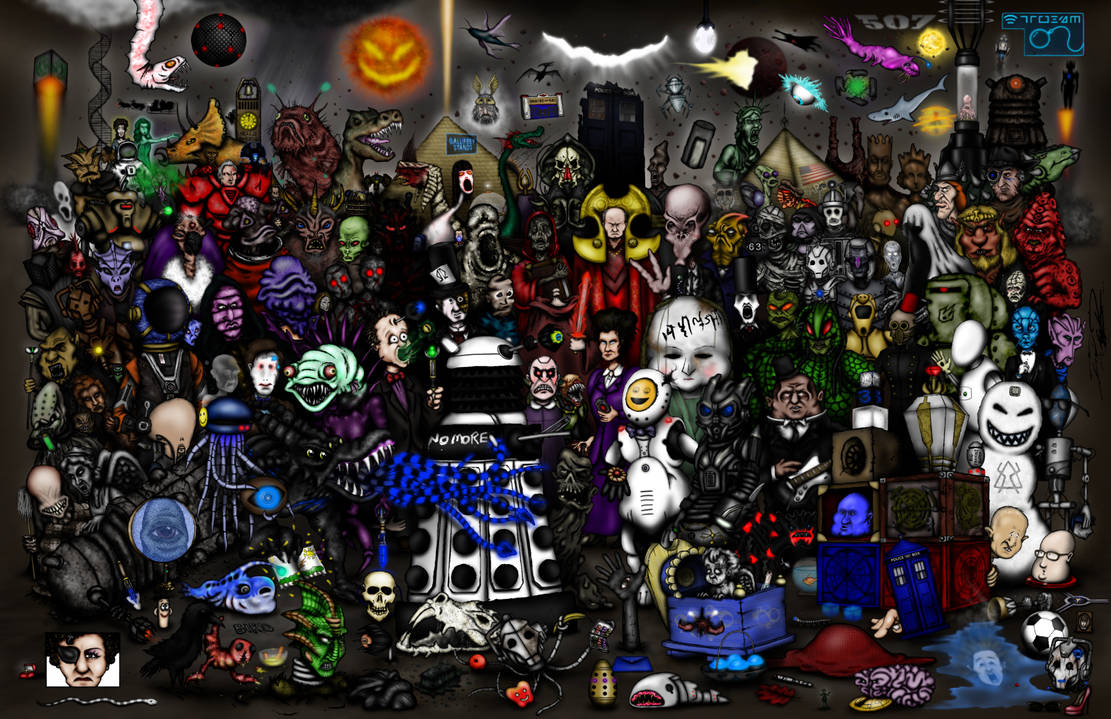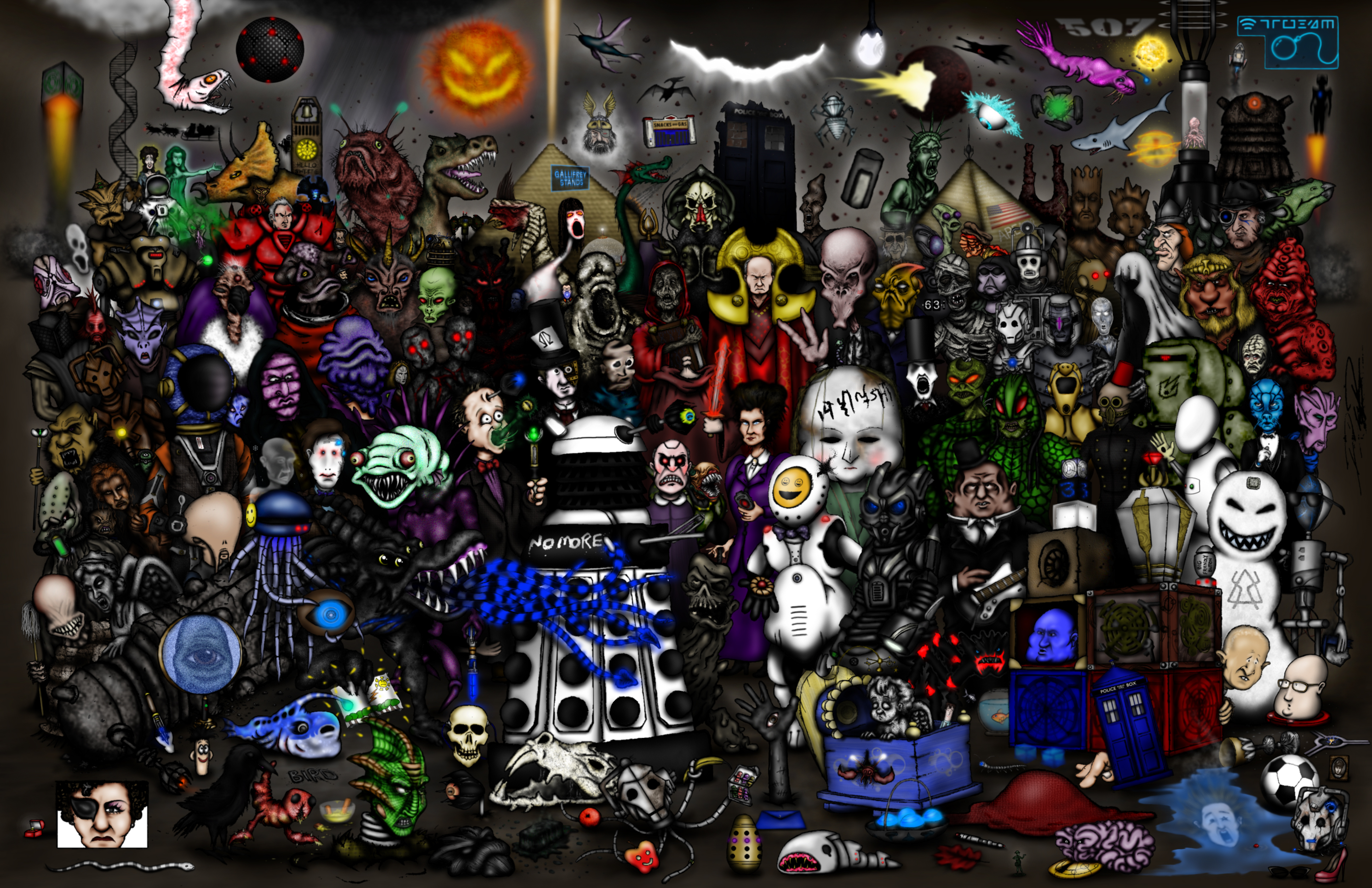 Watch
I'm drawing EVERY televised Doctor Who creature, no matter how fleeting or irrelevant. Not necessarily counting aliens that looked like humans or just had a painted face.
This is my brand new, never before seen, supersized Steven Moffat era illustration. In it is EVERY creature televised on Doctor Who between 2010 and 2017. Including The Eleventh Hour and Twice Upon a Time and every story in between. Including every alien seen in The Rings of Akhaten, which took forfreakingever. The spin-offs shows are not pictured, but spin-off episodes featuring the Doctor are represented.


Previously: Part 4 - The RTD Era:

All of them together:

now do some of the Sarah Jane Adventures creatures and all the Torchwood monsters.
Reply

Mofffaaaaaaat!!!!! *Shakes fist*

Well... he's great. He wrote so much good TV- stuff like Course of fatal death (My first Doctor Who expierience), Coupling (My now favourite Sitcom) Doctor Who (Always the Best) Sherlock (Ok, I haven't watched it yet, but I will do it, when I'm finnished with Smash and Flash foreward...that's a joke, I haven't even begun with these two...)

PS: the best Russel T. Davis episodes were written by him...(Empty Child/ Doctor Dances, Girl in the Fireplace, Blink, Silence in the Library/ Forest of the Dead) and he wrote fantastic Episodes such as dark water/ death in Heaven, the magicans apprentice/ the witch's Fammilliar/ Extremis and of course... Daleks. (Sorry, a little joke from Coupling... written by him!!!) I mean World enough and time/ the Doctor falls...
What's your opinion?

Reply

Moffatt is a genius. Obviously I loved his RTD episodes. When he first took over the show himself, I thought it was a bit too fairytale, but I still liked it. But as he settled into the job, he got better and better. He really tried doing brand things with the show. Not everything worked, but you don't know if you don't try. And he took the Doctor's character in directions we've never seen before. He made a lot of very brave choices with the writing. He really understood the show and the characters like few previous producers. He was born for the job. I already miss him deeply.
Reply

Thats right, I also had a long pause before I get into his Era als a Showrumnner. (I still don't like the Matt Smith Era much, but Capaldi era is the best)
What got me into watching the Moffatera was his Sitcom Coupling... (and now I struggle with the Idea of watching Sherlock too) then I realise, that the first ever whovian thing I saw, was a Steven Mofffat thing too, (The Course of fatal death) Well, he is not so bad, as I thougt first. (Only knowing Sherlock)
And his last Seasons were great. (My favourite Episode is Extermis and The Magicans Apprentice/ The Witchs Familliar)
Also I really like is Episodes in the RTD-Era: Empty child, Blink, Girl in the Fireplace and of course Scilence in the Library are the greatest new DW-Episodes ever written.
What do you think?

Reply

I've never seen Coupling, but I've heard of it. I have watched all of Sherlock. Those are great. Not many episodes, but each one is movie-length. I agree, those DW episodes you mentioned are all brilliant. I recently read Moffat's novelization of The Day of the Doctor which was amazing. Really strangely written, very funny, and with lots of unexpected characters and bonus scenes.
Reply

Interesting, I've never watched Sherlock, but watched Couplking 3 Times completly (In english) It's so funny, I love it. you wouldn't be dissappointed if you love mister Moffats humor...
Reply

lots of fun. How long did it take you to do this?
Reply

Thank you. I have no idea how long it took me. I kept dipping in and out of it between other stuff for months. I started it way back in June, almost a year ago.
Reply

i don't recognize the two aliens below the launching Pandorica, one has two big red eyes and the other has a sharp head with two green eyes, from which episodes?.
Reply

This is great, wonderful, nice job fitting in so many characters and creatures.
Reply