So, its here! Summers here! The time to go the beach, go on picnics, get your tan on, have fun in general!!

But, lets not overdue, lets introduce this months topic! Well, next months- ANYWAY!



this months topic is...

BEACH DAYS!!

Expected hm? Yea, should stop giving hints in the first sentence.

So basically, rules: Once a month one of the admins are going to post a 'topic' for art, literature etc.
For example, if I suggest the topic 'Unusual ships from MC Diaries' all of you have a month or less to draw or write something from it!

And make sure to upload it to the contest entries folder and put in the title June Monthly Challenge or any variation of it!!

the DEADLINE: JUNE 30TH



But lets not forget the winner of the previous month!

its.. drumroll please...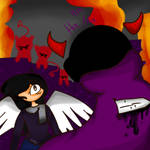 congrats MintyGreenTeaBoi !!!




rokewe