Literature Text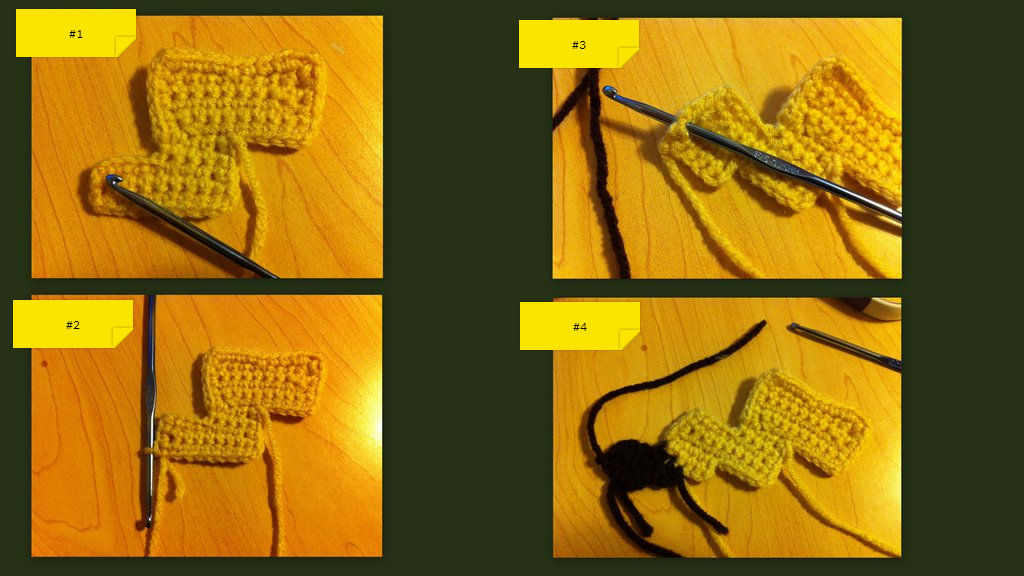 So these are just a few WIP pictures I took as I was making the tail. I don't think I can write a proper pattern for it, so hopefully the pictures will give you an idea of the steps I took to construct it. I have a rough pattern of the beginning steps that hopefully, the pictures will help you to interpret.
Tail: (working in rows)

Yellow:
Picture #1:
1. Ch 10
2. Sc 7, hdc, dc, ch 2, turn
3. hdc, hdc, sc 7, ch 1, turn
4-5. Sc 9, ch 1, turn (2 times)
6. Dec, sc 7
7. Continue sc along 3 edges of rectangle <--I like to add extra stitches and chains when I get to corners in order to get a better angle. The number of extra stitches depends on how the shape looks as I'm working. This will complete the large rectangular shape.
8-9. Sc 4, ch 1, turn (2 times) <--These rows make the small junction between the large and smaller rectangles.
10. Ch 5, turn<--This step begins the second rectangle. This is an extension off of the large rectangle.
11-13. Sc 8, ch 1, turn (3 times)
14. Continue sc along edge and FO <--Note where this is in the picture
Pictures #2 and #3:
15. Start at opposite corner of rectangle and crochet along edge <--The hook is pointing at where I started in picture #1 and completed in picture #2
16. Continue along longer edge: inc, sc 3, ch 1, turn
17. Sc 5, ch 1, turn
Pictures #3 and #4:
Brown: <--Hook inserted and brown yarn attached in picture #3
Do something similar as before, but on a smaller scale?????
For the Black/brown bit I started it where you said in pic#3 and went round the corner and along the longer edge. Then turned and chained another 3 at the end of that row. And then just sc the rows until I thought it was long enough. (and in my case until my double brown ran out, cause my brown yarn was thinner than my yellow I doubled it up!)