So I woke up this morning and turned on my phone before work and as I checked dA I discovered my inbox exploded with messages... and found I got a DD! I'm still floored. I've been on this site for 11 years if you count the account I had before this one and this has never happened to me. It seems a bit surreal, but it makes me really happy as well. It's certainly not something I ever expected. I would like to extend MANY thanks to

for choosing my humble little photo set of tiny figures and ramen.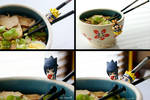 Also, to all my new watchers, welcome and thank you, too! I do hope you enjoy my works in the future as well. I'd really like to do some new things in the next couple of days, so keep your eyes peeled.
THANKS to everyone