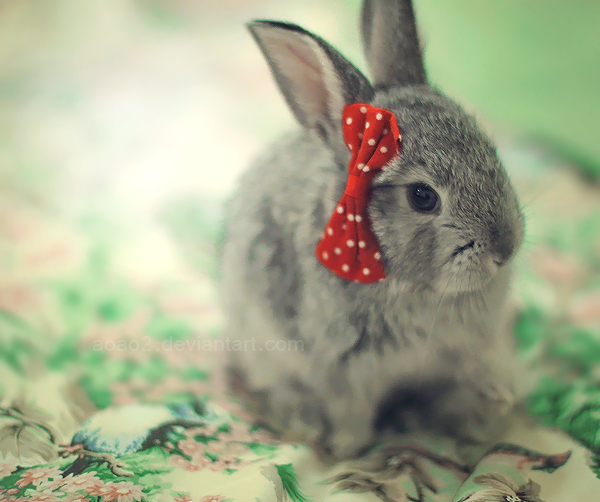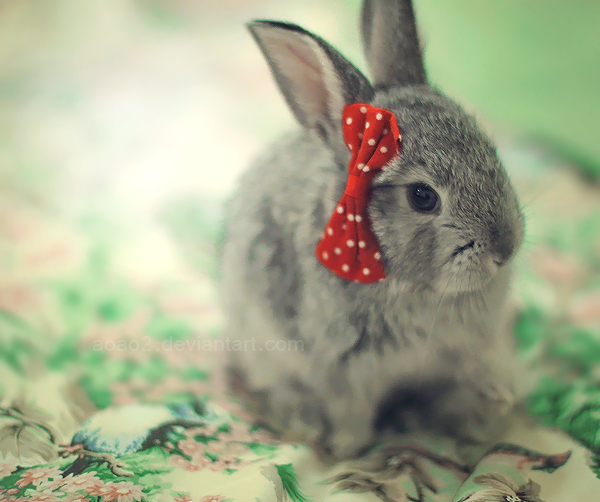 Watch

What an cute bunny is this! I really like the photo, I think it's one of your best bunny pictures!

For originality i've give you 2,5 stars, sorry! I really love the concept with the ribbon and minnie mouse, that's origininal as well, but as EliseEnchanted said earlier: you have só much bunny pictures, I don't think it's very original anymore.

I like the technique; the light is good and I love the blanket you're bunny is on. Also the depth of field is amazing, how it's body get more blurry. Maybe the low part of the ribbon could be a little bit sharper. I like the twinkle in her eye!

This is, again, an breathtaking picture for me. It's loveley and cute, your bunny is a truly photo model!
The Artist thought this was FAIR
44 out of 48 deviants thought this was fair.
This is so adorable I could cry. Love the bowtie and the (blanket?) he's sitting on, also the fuzzy effect is very cool and adds a soft touch, which seems to emphasize how soft and cuddy bunnies can be. I also love this "expression", this bunny seems to be wholly unimpressed with wearing a red polka-dot bowtie and you can almost see the thought bubble "Do I HAVE to?"
I like the muted colors too. I personally have a weakness for the color grey and especially on animals like rabbits. This is overall very cute and worth a feature in my group #
AnimalsofTheWorld
.
The Artist thought this was FAIR
31 out of 34 deviants thought this was fair.