Hello there,
the tale of the good the bad and the ugly is a comic book anthology. We are actually in a kickstarter campaign to collect the necessary fund to print the book. We have practically reach our goal. About 75 % reaching and over 9 day to go. we really need your help!
you can help us to pledge 5$ ore more on our kickstarter page or you can share the link below on your facebook page,deviantart,twitter, any social media.Please spread the word !
special offer on my journal for the people who want pledge 5$ or more
diaff.deviantart.com/journal/K…
thanks for your support!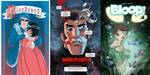 kck.st/1uYMoWI