This is Bisque. She is in charge of this trial!

You only need to complete ONE of the steps below to complete this trial!
Completing them all is now OPTIONAL.

You need to own an official Griffolk before you can do this trial

If your Griffolk is not from Capria, they must complete the
Capria Registration Trial
before starting this trial

Native Caprians must complete their Identity/Originality Trials before starting this trial
Art has to be full body/colored with a background that has depth
If you choose to write: each step must be posted as literature to DA and be at least 700 words in length. You can also choose to combine the steps into one submission, as long as the requirements for each step are fulfilled in your story. The total word count would need to be a minimum of 700 times the number of steps.
Read each step carefully as some may require you to draw additional characters
Title your entries with the name of the steps
When completing this activity your Griffolk must be in Griffolk, Companion, or Human Form - if you have shapeshifter forms. You must have the form unlocked to use it in Activities.
Add your entries to
this folder
When you are done, link all five artworks in a comment in the
Global ACTIVITIES APPROVALS
Reward: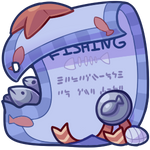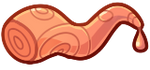 ---
1. Be Prepared
Art:
The day has come! Your Griffolk has decided to take up fishing, be it as a hobby or, possibly, as a career.
Draw them getting ready for a day of learning how to fish. What supplies, if any, do they pack? Do they don any gear?
2. Find Your Bait
Art:
You won't be catching anything without some bait! Bisque, the bait shop owner, provides free chum and worms for the apprentice fisher to use in barrels outside her shop. You might think she's being kind, but really she just won't sell to anyone who hasn't at least proved they can catch a few fish first.
Draw your Griffolk taking advantage of her offer of free bait, or finding some bait of their own!
3. Find the Perfect Spot
Art:
Half of the skill in fishing is knowing how to find a good fishing hole.
Draw your Griffolk finding this special place. (Can be any environment, but must include a stream.)
4. If at First You Don't Succeed....
Art:
This fishing thing is harder than you thought! It might take a while to get the hang of it...
Draw your Griffolk coming up empty on their first few attempts. How do they react?
5. First Catch!
Art:
FINALLY! Victory is yours!
Draw your Griffolk presenting Bisque with a successful catch! Is it a whopper, or a small fry? You must include Bisque in your image. Is she impressed?