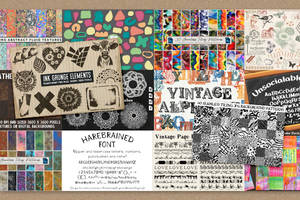 HG Designs Subscriber Area
Lots of high resolution goodies for graphic design including textures, photoshop brushes, seamless patterns and more.
---

Description
Created by cinema 4d and all are png files


By downloading and using my stock you are agreeing to abide by the following terms of use. Be aware that I update these rules from time to time, so make sure you are familiar with the current rules. If you have any questions about them, don't hesitate to note me! If you don't follow the rules we may have to ask you to remove your artwork.

My stock does not belong to the public domain – you must be a member of DeviantART to use them.

Credit me and link back to me on the description of your final work
.

Let me know that you have used my stock by
commenting on the stock
you've used or
sending a note
. I'd love to see your creation! Please make sure that your link is leading to the right place – it takes me three times longer to trace your work if the link is broken, and on some occasions I may not be able to locate your work at all.

You can use my stock outside the deviantART.
You don't need to ask my permission for using them outside the dA, but you still do need to credit me and link back to my account
. Also note me about the usage so I can see the final artwork.

You may not use my stock to make another stock!
You may not re post them outside deviantART either, sell them as they are, or claim them as your own.
used in my following works