COMMISSION INFO

Chibi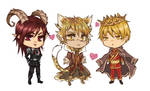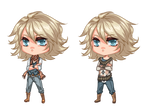 $5
Detail headshot/bust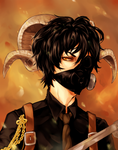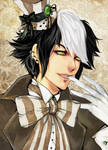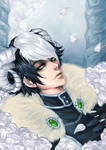 $20-25 depending on level of character detail
Waist/thigh up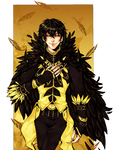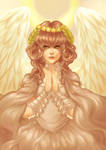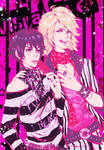 $30-35 depending on level of character detail
digital sketches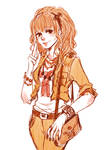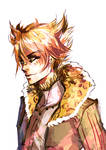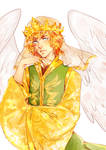 $5-15 depending on style and detail See the majority of my tumblr artwork tag for more samples.
monotone flat/lineart
$15 sometimes I feel things are better without colour or perhaps you just want a flat monotone shaded pic
additional info
- All include simple or flat background. Detailed background will cost extra again dependent on level of desired detail.
- 2 characters max and extra cost for second character
- for things not listed here (such as full body or couples) you'll have to ask me about it.
Slots
For now only 5 slots are available to keep it manageable. You may take 2 slots max but it would be preferable if you took 1 at a time. This is because bulk orders for one person stress me out D:

astroaxus

RaisloverSakura

Marimobara

Tseng-Akera
OK

original characters

BL

men and women (more confident with men)

fanart for series I like (ask if you're interested)

costume design (if that's what you want)
not OK

yaoi/yuri/pornography in general

mecha or machines etc

anthro/furries (kemonomimi is ok)

fanart for series I dislike/don't care for (naruto., homestuck etc ask about it)

old people, children/underage characters and traps
I am sorry if you want fanart for something I dislike but I have a hard time drawing things I  don't care for and it would also mean a lack of effort on my part which is not what I want. Along the same lines I'm not comfortable at all with traps. Feminine men are fine but I don't like traps at all XD;
what is a trap? - basically a character designed to look like the opposite sex. example a boy who looks and dresses like a slutty girl
Payment
Paypal only I don't take points cos they won't help me towards a new laptop.
I repeat
I won't take points
You will be required to send payment upfront AFTER I show you a preliminary sketch and you are happy with it. If you want to make changes or suggest things this is the time to do it. This of course doesn't apply to sketch options. Once payment is sent I will start work on your commission
If you cancel your commission whilst I am working on it you won't receive a refund.
Important notes
- personal use only
- I reserve the right to decline a request
- do not hassle me on a regular basis. You may request WIP's but please don't message me every day or week about your commission. Sometimes it takes a long time and can take over a month. Be patient basically.
- if you want a commission as a Christmas gift for somebody you may request an anonymous slot and I will prioritize it to be finished in time.
- there is no guarantee I will submit your commission to DA. If you wish to post it in your own gallery ask in advance. Likewise if you don't want me to post it also say so.
- it doesn't matter if you are first in the slots I may complete an easier request before yours. Example a sketch will be finished before a detailed bust.
- Prices are negotiable if you wish for types not included or extra character or details/bg's etc
Commission form
Fill this in and send me a note
name:e-mail:commission type:
(include extras if you want any)
allow experimentation:
yes/no *
Character references:
Please provide images and/or a
detailed
description. Putting something like 'white hair and blue eyes' is not good enough. If you want an outfit design or background you will also need to give references and descriptions. Some information or bio about the character is also preferable to help me get a feel for them.
* experimentation colouring and such is something I like to do however this means your image may not turn out like the samples and could be something completely different. By allowing it you take responsibility for the outcome. Some examples of experimental pieces -
fav.me/d4brn5u
fav.me/d3pdwdy
s3.amazonaws.com/data.tumblr.c…
fav.me/d3ri62j
fav.me/d4hiah0
s3.amazonaws.com/data.tumblr.c…
If there is anything else feel free to ask <: if you want to help advertise it would be very much appreciated.