Welcome to Anthro-Fantasy-Club
We are a club dedicated to both fantasy and anthro artwork. All anthro and fantasy species are welcome.

Rules and FAQ
How do I join?

Click the "join our group" button. Membership is automatically approved.

How do I submit artwork?


Only members can submit to the group, so please make sure that you've actually joined the group before you try to submit a picture.



If you're a member, just click the "Contribute art" button and choose the picture you would like to submit. Please make sure that you're submitting your picture to the correct folder. Artwork submitted to the wrong folder could be declined.



All visual mediums are accepted.


How often can I submit artwork?


Members can submit 3 pieces of artwork a week. Contributors can submit artwork 7 times a week.


Why was my artwork declined


Artwork is usually declined because it's mature or it doesn't meet our quality controls. Please make sure to read our rules before you join the group. Our rules are here: anthro-fantasy-club.deviantart…



The admins reserve the right to decline your artwork without explanation. If your artwork is declined, you're free to ask why, but we might not always provide a reason (especially if you're hostile towards us).


Who is that dragon in your icon?


She's Ayla, our mascot. You can find out more about her here: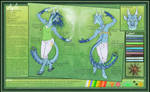 Our icon was made by the lovely

!