Journal Entry:
Wed Jul 15, 2009, 8:58 AM
Variations, Art-trade, Requests and Commissions
Variations
Bringing 2D to 3D
I gave my self the challenge to let my inpired by some nice art on the communities
like Furaffinity and Deviantart and to find a way to interprete 2D drawings in my 3D digital dollhouse.
I think it's a nice way to speak to each other by the pictures we create.
Rules for my Variations
1. The artwork have to be a drawed scene (not just a portrait)
     should bee not just Fan-Art
     should have a unique idea    
2. No shota, people must be over 18
3. It must be possible to make in 3D and the pict have to inspired me
Usualy I chose the motiv by myself and ask the author. But a
Request for Variations
• can be from the artist herself
• from any user: I will need the confirmation from the author that she agree.
So ask her before and document her answer
Example for Variations
Art-trade
is a nice way to speak together. Same rules than up.
Example for Art-trade
with

:thumb99012916:
with

:thumb118959313:
(I offer a 3D Version of one of her art-works)
with

:thumb120616057:
with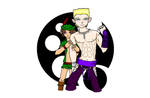 with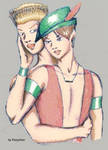 with

with

with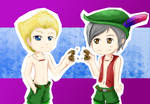 with

:thumb129608692:
More examples for Art-trade on my Hompepage:
Peter Pan and Adam by other artists
Requests
Sometime I'm aks to make a pictures following an idea...
Officially I do not make request. I make «Variations».
But if is an unique idea and I can make somebody happy, I will maybe do.

I can't promising anything...
Example for Requests
Commissions
If I had to ask money for my 3D-work and count the hour-salary of my web-company,
I think, it would be to expensive...
But of course you can ask... If is serious it will be managed by my company.
Commissions and request at sl
Sometimes I make portraits of sl avatars. I make them in DAZ|Studio 3,
technically there is no link between the two 3D worlds.
Commissions and request have to handle in world. I not make this mainly for money, I make this for fun.
I have to know the avatar to make a good work.... and I have to be inspired... I am a busy little elf, I can not promise anything...
Prizes are form a kiss until around L$ for a series of portraits.
======================================================
======================================================
I will only accept request or demand for a Variations
from people they support me:
they watch

me here or y!G
and sometimes favorites

and command my work.
if you wish a Variation or have Request or Commission,
please send me a note here or on my FA-Account
======================================================
======================================================

===================================================

Watch