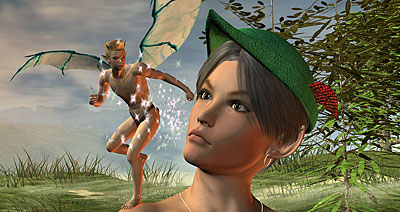 Some people ask my about my 3D artwork, which program I use etc. Some others see my portraits of Second live avatars (SL): Well, I make them with DAZ|Studio, technically there is no link between the two 3D worlds.
I play around with 3D programs since 1996/1997, basically with Bryce and Poser.
My new 3D Art work with DAZ|Studio started ends 2006.
Working with DAZ|Studio is like in Poser, usually you not create 3D models by your own,
you buy them ore use freebees and then morph, pose and texture them.
I never pretend my work in 3D with DAZ|STUDIO is «Art» like Rembrandt, Picasso.. is just something I do for fun. I mostly use pre-packaged or downloadable models. I texture them, morph them, pose them. Many art work like photographic, film, collage, theatre use «pre-packaged» models.. lol.. The point is not WHAT you use, the point is HOW you use.. .
It a little bit like a digital dollhouse. But no program can give you creativity...
It's like with the paint brush and a blank canvas... up to you what you want and can do...
It's sound easy, but If you want to do, what you really want to do, it's some work to do...
I usually use one up to three evenings to create one of my figures, to morph head and body like I want them to be, to choose and to change the skin, to find cloths who suits and change their textures how I want them.
(But sometimes the figures get alive and they do want they want....)
The same proceeder with the environments and the props.
I often change props or use them like the maker maybe not expect...
I sometimes also import obj-files and prepare them in a other 3D programs.
I make myself skies and backgrounds in Bryce. (The other way is also possible and sometimes better: To prepare the figures in DAZ|Studio, export them and and make the scene in Bryce.)
For my most characters I use as base figures Hiro 3 (H3), David 3 (D*), Victoria 4 (V4), Micheal 4 (M4), Hiro 4 (H4) and Genesis (V5, M5), all form DAZ.
I use DAZ|Studio (and my and sometimes my brain) because
• is a free program
• is better and quicker handling for me then poser
• better rendering engine
• you can use all your poser stuff (except some materials (.mt5, .mt6)
• good mac support (I use a Mac computer, but works also fine on PC..)
• I get use to (the program you know is always the best...)
• Did a mention this? The program is free
Article about my work:
AN ELF AND HIS BOYS
By Koko Carlucci in Ohboy
The world of Frodo Siegel in Second Life
in gay-worldsnews
I make a list of nice free poser stuff
Usefuls Poser und 3D-Links
More usefuls links:
You can download the newest DAZ/Studio at
DAZ|Studio
M4 Listings
a wiki dedicated to the Michael 4 figure from DAZ3D.com and all content for him.
Free download Bryce
two great place for tutorial and resources here on DA:

dazclub

poseraddicts
PS 1: Sorry for my poor english...