Drawn by

as a commission
Here is the last god of chaos, the blood god, he says he wants blood to flow....as long as its not his it seems XP
Wussy.....
Image size
4134x3194px 7.9 MB
IMAGE DETAILS
Software
Adobe Photoshop CS4 Macintosh

Erm. Khorne looks like a giant human-shaped suit of armour. He's not a giant Bloodthirster.

This is Khorne: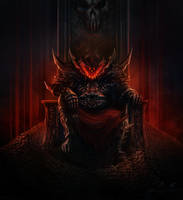 He is much bulkier, armoured, in a calmer state and, most notably, he doesn't have digitigrade legs. He is explicitly humanoid.
In addition, he is a god of honour, justice, vengeance, sportsmanship, manliness and martial prowess. not just mindless rage. As much as many, writers included these days, like to forget. He's not a one-dimensional killing machine.

But I need moar than a generic suit of armor, also assume my chorn has blood wings that
can deploy at will

So instead of a 'generic' suit of armour, you've made him a bigger version of a Bloodthirster? That's just a generic Khorne Daemon. He's more than that.

well its too late to consider other options, I already have this pic and the other four chaos gods.

Speaking of, go fav those and complain about them too XD