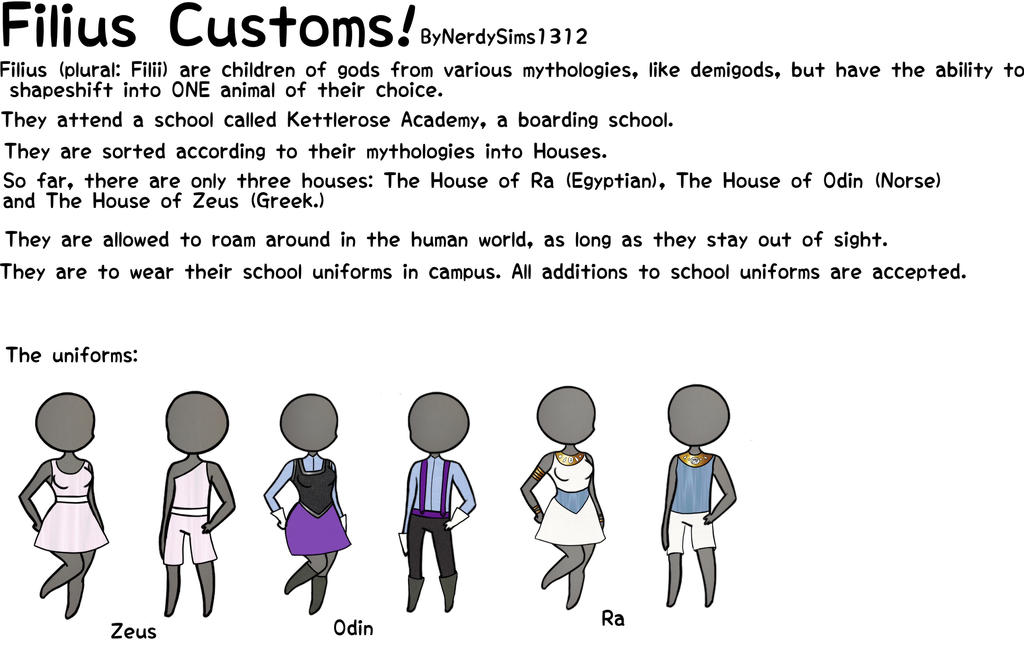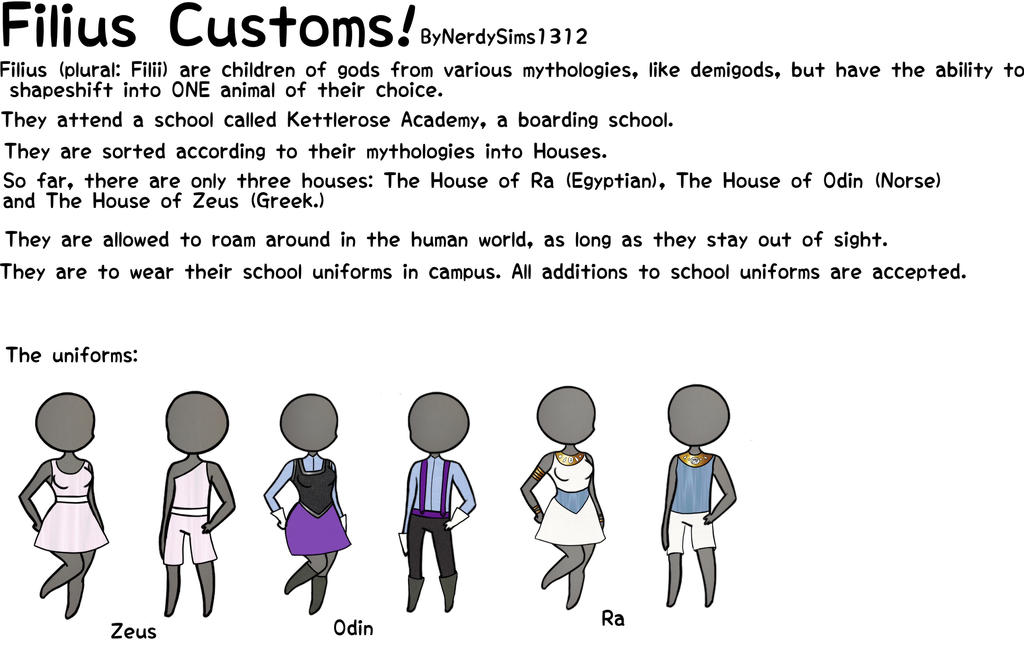 Watch
WARNING: THIS IS A CLOSED SPECIES! YOU ARE NOT ALLOWED TO MAKE ONE OF YOUR OWN!! However, you are allowed to ask for custom or adopt.

So in edition to the stuff on the deviation:
-Each uniform has a custom-coloured part. For the Greeks, it is their sash/belt. For the Norse, it is their gloves. For the Egyptians, it is the jewels on their neck thing. The colour represents who's child they are. I won't tell you which god has what colour.

Uniforms also come in different colours:
-The Blue Veil on the Egytian uniforms also comes in gold.
-The golden neck thing on the Egyptian uniforms also comes in silver
-The boots for the Norsies come also come in brown.
-The skirt/suspenders for the Norsies also come in aqua.
-The whole uniform for the Greeks also comes in light grey.

A list of gods and goddesses you are allowed to choose from (google them) :

Egyptian:
-Anubis
-Apophis
-Babi
-Bastet
-Bes
-Geb
-Gengen-Wer
-Hapi
-Hathor
-Heket
-Horus
-Isis
-Nephtys
-Nekhbet
-Nut
-Osiris
-Ra
-Sobek
-Sekhmet
-Seth
-Shu
-Tarawet

Norse:
-Baldr
-Bragi
-Dagr
-Delling
-Eir
-Eostre
-Forseti
-Freyja
-Frigg
-Gefjun
-Hlin
-Hoor
-Iuonn
-Joro
-Kvasir
-Lofn
-Loki
-Magni
-Mani
-Nanna
-Njoror
-Nott
-Odin
-Sif
-Snotra
-Sol
-Thor
-Tyr
-Vioarr

Greek:
-Zeus
-Poseidon
-Hades
-Demeter
-Hestia
-Apollo
-Aphrodite
-Ares
-Athena
-Hephaestus
-Dionysus
-Hermes

Note me with this:

Name:
Age:
Gender:
House:
Godly Parent:
Uniform Preferences:
Accessories:

The price is 30 points. I'm willing to trade art, adoptables, or an oc of your closed species, too.

You get one Filius per mythology.

If other mythologies get requested a lot, I'll add them too!

Once you get your Filius, come join :devKettlerose_Academy:

Thanks for reading!

Reply

Name: Illia
Age: 18
Gender: Female
House: Freyja
Godly Parents: Lofn
Uniform Preferences: Brown boot, aqua skirts and short hair
Accessories: Necklaces, a dagger around her waist and a winged circlet
I wanna pay with points :3
Reply

Sounds pretty cool, actually :3
I believe that would be 30 points, probably, cause I'm not really sure what a circlet is, and I have trouble with daggers. But yeah, does 30 sound okay to you??
Reply

Oh cool

it's really good to see the base.
Reply

Oh wow, it looks awesome

I'll make sure to order a custom soon c:
Reply

Name: Aniya (nickname Nia)
age: 17
gender: female
house: za
godly parent: anubis
uniform preferences: if possible a boyish uniform.like no dress or skirt.
accessories: an anubis mask.
if I can id like to offer a custom of my closed species
runix-knights.deviantart.com/
Reply

I can't really remove the skirt, cause that's the only thing they provide, but I can make her look a little more boyish by adding boyish looking leggings or something, if that's okay with you
And offer accepted!

Reply

Ok :3
note me ur details fer the custom runix knight plz

Reply

House of ra sorry lol typo
Reply