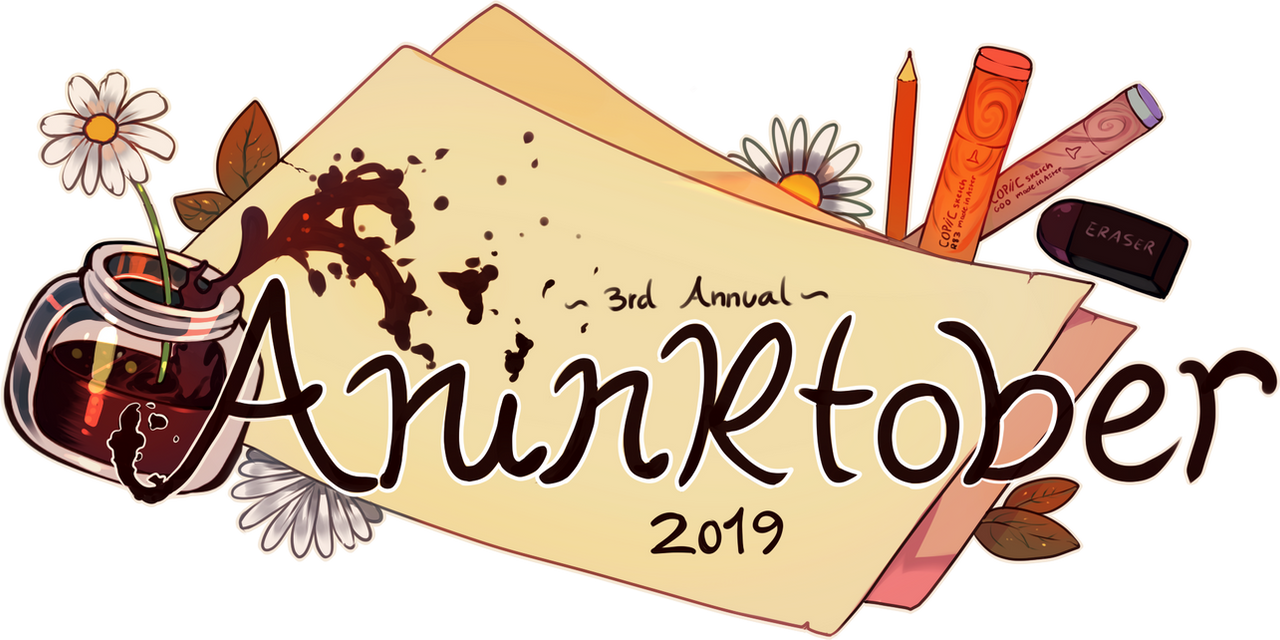 Winners Announcement

We would like to apologise for the huge delay and thank you all so much for your patience!

Thank you all for participating in



Here are our Winners for each category!

---
31 Drawings
1st Place

ShiroEsuna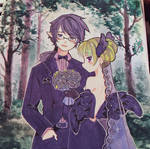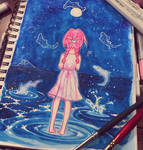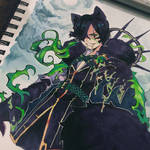 Judges' Thoughts
○ She has kept the style and aesthetic throughout the 31 pieces, while still putting an equal and even more amount of effort into each piece! They all tell a story of their own and some even have a full fledged background scene to make it seem lively and creative!! Not to mention her last piece is a full on comic, which takes a lot of time and dedication to do.

 Amazingly done!

○ It is clear to me how much love, effort and care she put into this challenge. Most pieces are fully coloured. A lot of lovely interaction with Annies we know and love. All in range from cozy scenery pieces to cute fantasy ones, with small chibis making a huge bowl of ramen! Each piece so special and with so much care put into it, and then it ends with a bang with a comic that very well suits the world of Anniverse. It is a clear winner to me. Splendid job!

○ 
Shiiro's works are all insanely dynamic and have so much time put into not just drawing them, but also into thinking out character's interactions, how to convey them, and the sorts of places they would go! Pretty much all her works are multi-charactered and the ones that aren't don't feel like they're any less detailed, because she really goes the extra mile on composition, atmosphere, and background for them (which is definitely not to say her other Aninktobers lack that, because they certainly don't)! All her entries feel like they're filled with super deliberate choices that were very thoughtfully developed, and I really really adore and respect that.

○ One of the reasons I chose Shiiro is because she included many interactions between characters, and represented them in a way that is true to both their personalities and stories. I noticed that many times people draw Annies together, though they are not canonically involved with one another. While both are great to see, I really appreciate the thought and effort put into portraying each Annie accurately. There was also lots of energy shown through the character's expressions and poses, which was super nice to see!
---
2nd Place

b-Eggot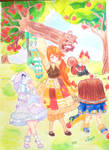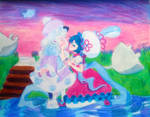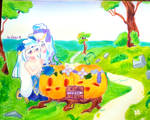 Judges' Thoughts
○ They drew multiple Annies in their pieces, and you can tell they really did their best effort with all of them! You can tell the love for their own Annies and others in every piece, and each one is filled with movement and emotion. Their unique style catches your eye and lets you take another moment to savor every piece they did.

○ All of their entries are bright, vibrant and colorful, which puts a smile on my face just looking at them! Some of them even have full fledged backgrounds that tell a story, while those without backgrounds still have very dynamic poses and expressions that don't make them any less interesting! The highlight of their entries are the detailed descriptions that Eggot has meticulously typed out for every single entry, which truly shows how much love and effort has gone into them ♡

○ With bright colours, Eggot brings us into her world and vision of Anniverse, with great passion and love. The bigger pieces mixed with the solo ones, who yet have a lot of detail and effort put into them. Many different expressions is what caught my eyes the most. She focused on a wide variety of different Annies and you can clearly see how hard she has worked.

○ Eggot's pieces included a lot of cute interactions between Annies! I can see that she tried really hard with all of them, as each piece was fully colored and many had backgrounds! All of her pieces look very vibrant and I'm sure they brightened the day of each Annie's owner!
Prizes
* It is up to the Prize Donors to contact the Winners! *
2nd Place
200$
2000 AP
UC MYO
C MYO
Chibi by
b-Eggot
Headshot by
zorchaa
Monochrome Inked Fullbody by
Kourakia
---
3rd Place

YuuiSama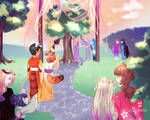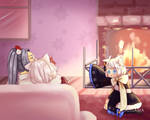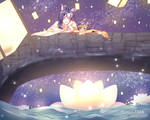 Judges' Thoughts
○ Even though Yuui did digital art, she certainly did not exert any less effort! Every single piece has detailed background settings which help tell a story, and the Annies' facial expressions really help sell it too. She also has multiple pieces containing multiple Annies, which takes a lot of effort to draw and fully fledge out, while her other entries with single Annies do not lose either in the efforts department as she makes up for it with intriguing and interesting background settings! The 31 pieces put together almost look like a fun storybook you can flip through — each containing a little piece of Annie lore and story~

○ With wonderful stunning background pieces, great play with lighting, lots of interactions and pieces from several different perspectives, YuuiSama definitely came to impress. With big effort to make sure each piece was coloured and shaded, it is clear how much time was spent on each one of them! As well how each piece is so so different from one and another, makes the whole 31 pieces a blast to look through. Definitely a wonderful experience.

○ In each piece you can see the how they see Anniverse, a colorful world where Annies bond with another. In their pieces, there is always something happening, whether or not its one annie or multiple. Their detailed backgrounds in each piece add to every character and the effort they put into them. Whether it was a personal Annie or someone else's they gave it their utmost effort, the movement in each piece is stunning and the way they presented each prompt is satisfying and pleasing to the eyes. I feel the warmth in each of their pieces and makes me smile looking at each tale in them.
Prizes
* It is up to the Prize Donors to contact the Winners! *
3rd Place
100$
1000 AP
C MYO
Chibi by
NikkiLotte
90s style Halfbody by
xMelonDrop
Monochrome Inked Fullbody by
Kourakia
---
Honorable Mentions
* Let's not forget our amazing honorable mentions! *
Prizes
Honorable Mentions

Event AP + 1000 AP
Finishing all days on either category grants you a C MYO slot!


---
4 Drawings
1st Place

Shi-Gure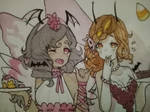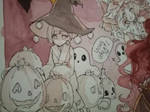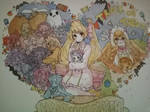 Judges' Thoughts
○ All their entries are stunning in their traditional style, colored so beautifully with soft coloring and have an amazing detailed background to help make a setting for a story! They all have multiple Annies and fit their personalities and backstories so well, you can see they spent a lot of effort getting to know the Annies!

○ At only a glance you can tell how much they love Anniverse and wanted to show their love for Annies! Highly detailed work and their stunning Annie portrayal makes you appreciate their work even more. Even with little time, they managed to do such stunning pieces and ended it amazingly with their last piece, which included many Annies and Yami Rose to represent Anniverse. Each piece warms my heart and makes me smile at their endearing passion and dedication
!

○ Though I know that this contestant struggled to find the correct lighting for their pieces, it is obvious the amount of effort that have been poured into each artwork. Each Annie carries such expression (even the smaller ones in the piece with Yami Rose), and each Annie's character really shine through these images! Each concept has been executed perfectly დ

○ 

Each piece is SO detailed!! They are all super beautiful, especially the last one that included many Annies in the background. She portrayed each Annie accurately, included colors and a background, and drew small details in all 4 entries. I can tell that it took lots of effort to complete!!! The artist's hard work definitely paid off!

○ A lot of effort went into each piece. While a little difficult to see due to the small size, it is clear they all took long to make. The first and last piece is especially impressive. With both the shading and amount of details that occurs. The pumpkin piece is as well very charming and I feel that each piece tells a story!
Prizes
* It is up to the Prize Donors to contact the Winners! *
1st Place
300$
3000 AP
SR MYO
UC MYO
C MYO
Fullbody by
Kiromei
Monochrome Inked Fullbody by
Kourakia
---
2nd Place

Kourakia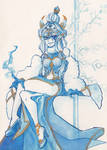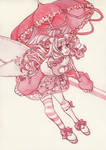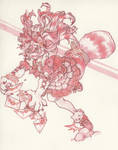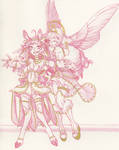 Judges' Thoughts
○ This participant's works feel alive!! There is so much emotion and passion within every piece, it really makes me feel like I know the Annies personally! Though the palette is purposefully limited on each piece I feel like this has been to great stylistic effect, allowing the details in the image to really pop and add meaning to the pieces! The picture of rana is by far my favourite


! The dynamic poses, facial expressions and beautiful colors are just so gorgeous!

○ One of the few times I'm glad that there isn't a detailed background! Because the Annies they chose to draw are already plenty detailed themselves, the simple and clean background allows us to appreciate the Annies' designs even more! I really like the consistent background, and at first glance I almost thought it was digital art, which is an amazing feat! Wonderful work~


○ Although only singular colors are used for the most part, each piece is breathtaking. Their pieces have so much flow and movement in each character while still being very detailed with their linework. Each Annie is portrayed accurately and you can clearly see each of their own personalities coming through! The shading is splendid despite the use of one or two colors; each piece is very warm and pleasing to look at and each one shows the love for Annies!



○ I love the dynamic poses in each and every piece. How the expressions are so vivid and the anatomy well executed. Each Annie include a high level of detail and it is so interesting to sit and study them. Stunning work.

○ 
Kourakia's entries were such a delight to see! The poses and expressions were so dynamic and showed lots of emotion! I loved that she made use of minimal colors as it made the pieces look clean, and focused attention to the other amazing aspects of her art. Very well done!

Prizes
* It is up to the Prize Donors to contact the Winners! *
2nd Place
150$
1500 AP
UC MYO
C MYO
Chibi or Thigh-Up by
Kiromei
Waist Up by
ChiliSalt-ah
Monochrome Inked Fullbody by
Kourakia
---
3rd Place

sekikuo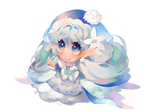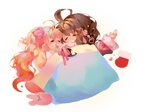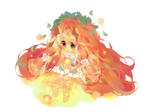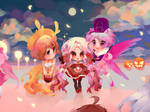 Judges' Thoughts
○ Despite it being digital, the delicate shading and vivid colours that show such life and vibrance won me over! It is clear how much effort went into each piece. The hair on each character especially is what makes the pieces stand out to me so much. The last piece especially, has such a beautiful background and some small cute character interactions! I love the warmth all the pieces radiate.

○ I fell in love with all of the entries!! They just look so soft and unique! Especially the final entry, that included a background and multiple Annies. The colors and lighting are so captivating! She truly created a beautiful atmosphere in all of her pieces, while still using the prompts and including cute interactions.

○ Your pieces give me such a nostalgic soft feeling, like a twilight in my childhood. I feel such comfort just looking at each piece! The colouring is absolutely astounding and I adore the composition of the second piece especially, but they are all incredible! Good work~

○ Their vibrant coloring and adorable chibi style immediately catches your attention at first glance! The poses and expressions make the Annies feel so alive, and the lighting in them are stunning! The painterly style is executed very neatly and beautifully, not looking messy at all~

○ Absolutely AMAZING painting and coloring skills! Each piece took my breath away at first glance; each piece had lovely details and a very comforting aura to them. Very dreamlike style and easy on the eyes, gives a person a sense of nostalgia as if these were in a children's book! Each Annie looks stunning and at peace, especially in the last one and even so each of their personalities come through! ♥

Prizes
* It is up to the Prize Donors to contact the Winners! *
3rd Place
75$
1000 AP
C MYO
Bust Up by
Kiromei
90s style Halfbody by
xMelonDrop
Monochrome Inked Fullbody by
Kourakia
---

We apologise once again for the huge delay
and thank you all so much for your love and patience! ♥



Please make sure to give all the love to our amazing entries here