Here's the 8 Facts Meme except I tagged myself

I plan on doing more too, but here's the meme with my main students for now. Also, you can find a brief description of their quirks here:

BNHA OC Character Directory Main Students
Einosuke Katou
U.A., Class 1-A
Hero Name: Reflector
Quirk: Repulsion
Gives him the ability to manipulate repulsive forces.
Hayano Matsumoto
U.A., Class 1-B
Hero Name: Tamias
Quirk: Rodent
Gives Hayano her rodent-like appearance and abilities.
Xīnyí "Mii" Wū
U.A, 3rd Year
Hero Name: Phantom Maiden
Quirk: Spirit Out
The user can manifest their spirit outside of their body for ghost-like abilities, but in exchange leaves their physical body vulnerable.
Kanzo Gushiken
Shiketsu, 2-A
Hero Name: Pack-a-Punch
Quirk: Stockpile
Can absorb and conserve the energy of any physical hit; the more energy he stores the stronger his attacks become.

Minor Students
Yasumi Daichi
U.A. Class 1-A
Hero Name: Steamtrix
Quirk: Boiling Point
Lets her heat up her body temperature to the where steam evaporates from her body, the steam can reach extremely hot temperatures
Shigeo
Einosuke Katou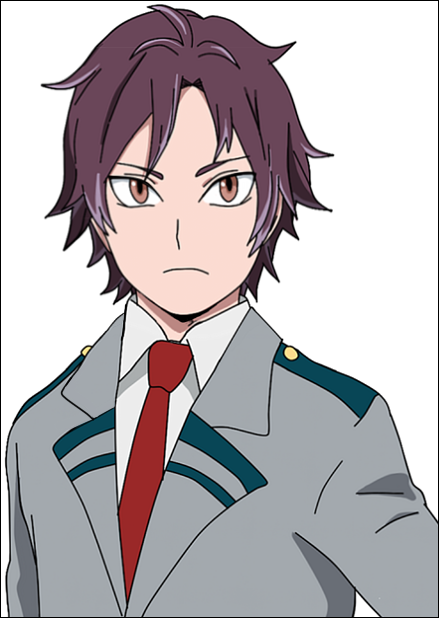 Einosuke likes rock music and is a fan of Jiro's mother's music, but doesn't know how to approach her about. He also enjoys playing video games and has a group of friends that he met through online play.
He has a dog and a cat. His dog is an Akita named Kenta and his cat is a black short-haired named Kuro.
He's seen mainly with Koji and Sato since they sit together in class. Einosuke also interacts with Fumikage quite a bit, but from the three he's closest to Koji. He admires Todoroki, Bakugo, and Midoriya since they use their quirks to the fullest unlike himself. Despite admiring Bakugo, he's been intimidated by him due to his aggressiveness.

Einosuke's quirk manifested a year later than average, and it was thought he would end up quirkless like his older brother. His quirk is similar to his father's quirk except a much stronger version, which the increased strength is thought to be due to his mother's "enhancer" quirk.

The lavender highlights in his hair are not natural, he dyes them in.
Identical to many others, All Might inspired Einosuke to become a hero when he was a child.
When Einosuke is concentrating to hard, he has an unintentional, intense scowl. He's extremely embarrassed about it...
Einosuke is voiced by Kensho Ono, here's a compilation of some of his roles:

*Author's Note: Basically everyone with the calm quiet voice would work for him
Hayano Matsumoto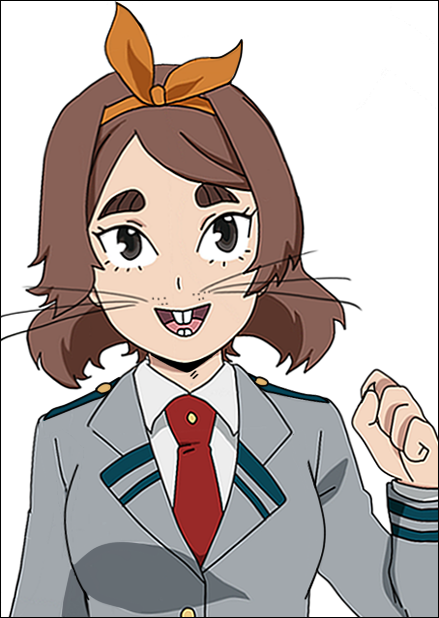 She's very athletic and participated in many sports such as track, gymnastics, soccer and tennis.
Hayano went to the same middle school as Itsuka Kendo. While they didn't interact with each much in middle school they both recognized each other on their first day in class 1-B. They eventually become friends after hanging out in class.
Her fighting style is kickboxing as she took some classes in it.
Hayano likes the outdoors, rock climbing, hard candy, and of course, playing and watching sports!
Her least favorite season is winter since she's always hungry and gets fatigue easily.
Unlike Neito Monoma and some other student's Class 1-B, Hayno has no ill feelings towards Class 1-A. Instead she gets excited when Class 1-A and 1-B have classes together.
Due to her rodent quirk, her teeth are always growing which is why she's always chewing on something, like pencils for example.
Hayano is voiced by Aya Suzaki, who voices Mako from Kill la Kill


Xīnyí "Mii" Wū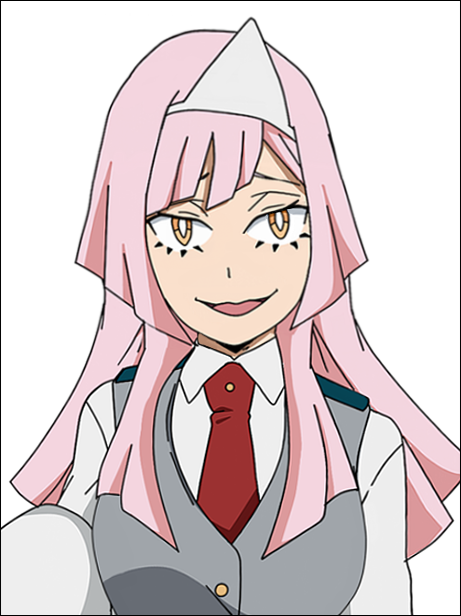 Xinyi is part Japanese and Chinese; her mother is Japanese while her father is Chinese.
In Japan she goes by the name "Mii", which is the Japanese reading of the characters in her first name.
Some of Xinyi's likes include Halloween, bubble baths, over-sized sweaters, and storytelling.
She spent most of her childhood in China, but frequently visited Japan during the summer to see her mother's family. During her visits in Japan, her grandmother trained her to improve her quirk since they both share the same quirk.
It wasn't until her grandmother fell ill is when her family started living in Japan. Xinyi spent the last part of middle school in Japan and later enrolled in U.A.
In her youth she had "imaginary friends" which were actually spirits. When she started school she was seen as an outcast among the other students as it creeped them out.
While most people weirded out by Xinyi's obvious connection with the supernatural, Nejire was interested in it as she found it strange, and wanted to learn more about it from Xinyi. Xinyi eagerly agreed since most people avoided her because of it. Ever since then, Nejire has been a friend of Xinyi.
Her voice is done by voice actress Yumi Hara, who also has played Albedo in Overlord.
*Author's Note: While Xinyi isn't obsessive like this, I think Yumi Hara can capture Xinyi's eccentricity from her role as Albedo~
Kanzo Gushiken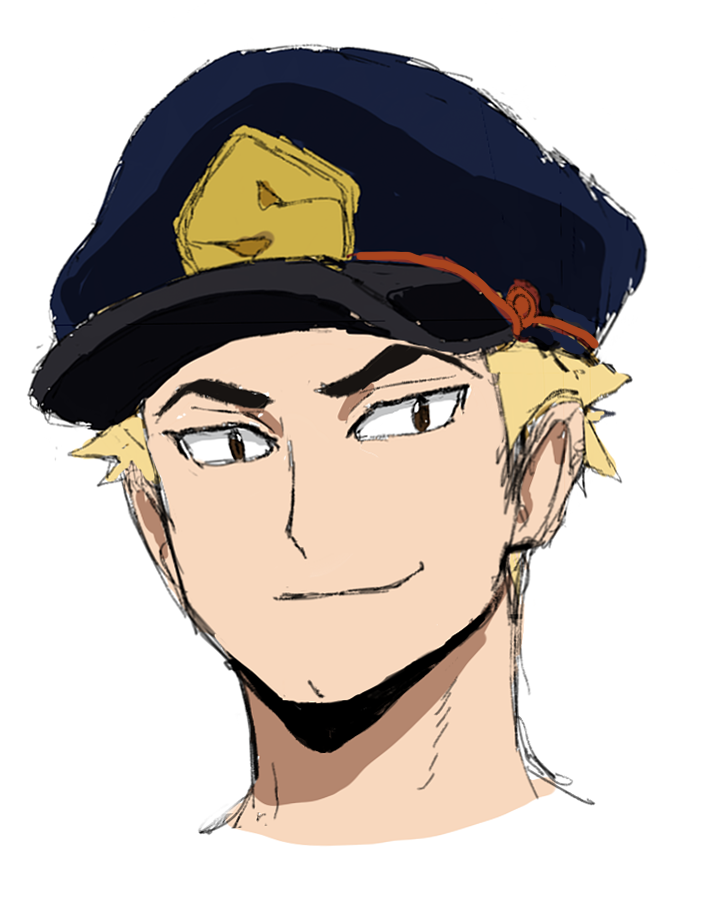 His father is a former pro-hero but currently owns and runs a martial arts dojo after having loosing an arm fighting against a group of villians. Kanzo acts as a "punching bag" at times for the students his dad instructs, which he doesn't really mind since it allows him to "stock up".
Due to how his quirk has to be used, Kanzo has gained a high pain tolerance.
Kanzo fighting style is best described as judo-karate hybrid; he mixes techniques in judo (evident in his throws) and karate (shown in his striking techniques). He utilizes his quirk mostly in his punches, hence his hero name "Pack-a-Punch".
Similar to Nagamasa, Kanzo also wishes to be allies with the students of Yuuei.
One of Kanzo's dreams is to visit the United States, which is why he is trying to improve his English. He incorporates some English phrases in his Japanese often and tends to praise in English, such as saying "nice punch" or "nice kick".
Like Inasa and Cammie, he's more lively and carefree. When Shinji gets angry with Cammie or gets after Inasa, Kanzo usually tells Shinji to "relax" or "stop being a tightass" with a hard slap on a back.
Kanzo's likes include carbonated beverages, hamburgers, sparring, and traveling .
He is voiced by Yuuichirou Umehara
*Author's Note: Originally I wanted
Yoshimasa Hosoya, but he already voices Fumikage. I like Yuuichirou's tone for Kanzo, like in his role as Hazama, Charioce XVII, and Nagakura, but if he were to play Kanzo, he would have to use a voice a bit more lively.