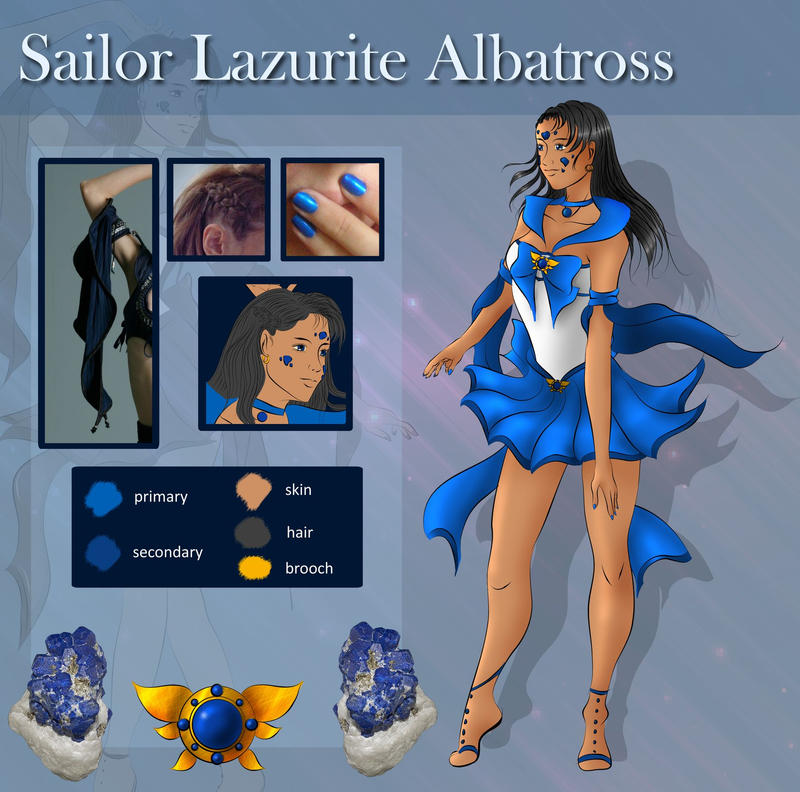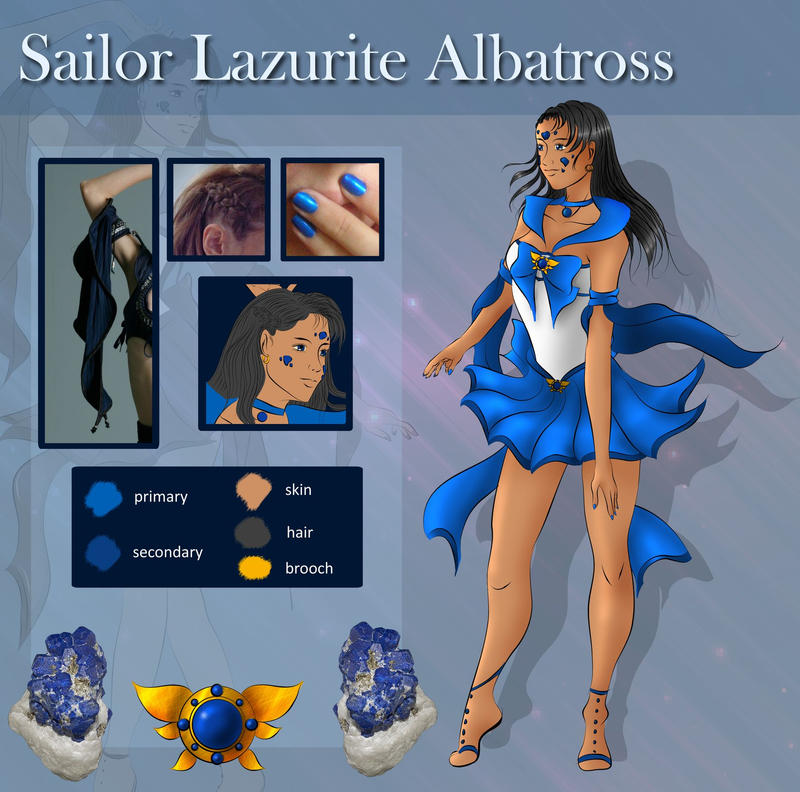 Watch
My OC for

Finally I finished the ref... I have a very nice henshin pose (in bckground here) but the ref should be added first

I made 5 other arts I do not like :/ This one is not great, but it's just a ref. Next one will be better ;]
Name:
Candelaria
Star sign:
Sagittarius (23 XII - so she has also many things from Capricorn character)
Nationality:
Spanish/British
Occupation:
proffesional dancer
Personality:
strong, resolute, likes to develop her skills, a little bit alienated and quiet
Realm of influence:
ocean, water, air, wings
Henshin phrase:
Jet stream wind power, make up!
Attacks:
Wings strike - offensive, a powerful, knocking enemy down hit of blue energy
Oceans peace - deffensive; some kind of mind control, the enemy feels peace and don't want to attack
History:
She was a Rigilan in her past life (nation from my fanfic about Centauri Senshi) so in her higher form she has wings (Rigilans are winged humanoid species). But she never awakened as senshi in those days and died when planet was destroyed by planet eaters monsters. Sailor Alpha Centauri, in her last wish and last use of senshi power, took all rigilans starseeds and sent them to Solar System to Earth and Silver Millenium. Queen Serenity (grandmother of Serenity - past Usagi) took care of all rigilans souls and they reincarnated on Earth and Moon many times, for many centuries. So did Candelarias soul. She finally reincarnated in 20th century.
She is a proffesional dancer, very atheletic, she danced in many videos and worked with many celebrities. She loves to back to her home in UK, near Celtic Sea, but she mostly works in US or in London teathers. Her favourite dance style is turkish belly dancing.
Stocks used:
huomennastock
mjranum_stock
jacobash
kate-fox (pose)
Crystal Animamates



Sailor Moon (c) Naoko Takeuchi

Reply

Fajne połączenie arta ze zdjęciami, podoba mi się ten pomysł. No i grafika też bardzo udana.
Reply

Taka moda teraz nastąpiła zauważyłam w sailorowym fandomie tu, że jak się robi refy to się dodaje inspiracje w postaci fot. Często też na pintereście ludzie mają strony ze swoimi oc'kami i poprzypinanymi różnościami np ubiór postaci.
Grafa śreeeeeednia ;] Miał być inny art, ale jest za dobry i bardziej pasuje do questa na grupie niż do reference, więc na szybko zrobiłam refa chyba z 5 razy i za każdym do kosza

Reply

Reply

I was thinking about colour scheme and I saw many Animamates have blue & something so I decided to draw pure blue ;]
Reply
She looks awesome!

so glad to see her in the group!
Reply

Thank you

I'm also happy I finally finished it

My next picture with henshin pose will be better. I really liked her when I finished it

Firstly, it was just drawning.
Reply