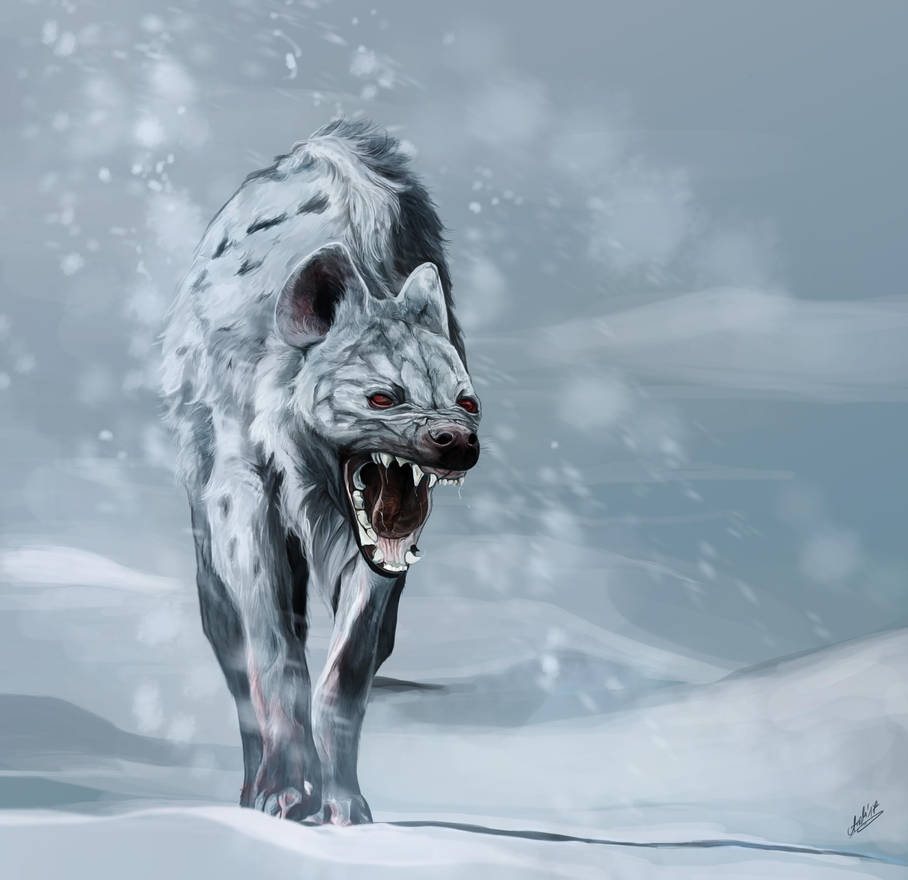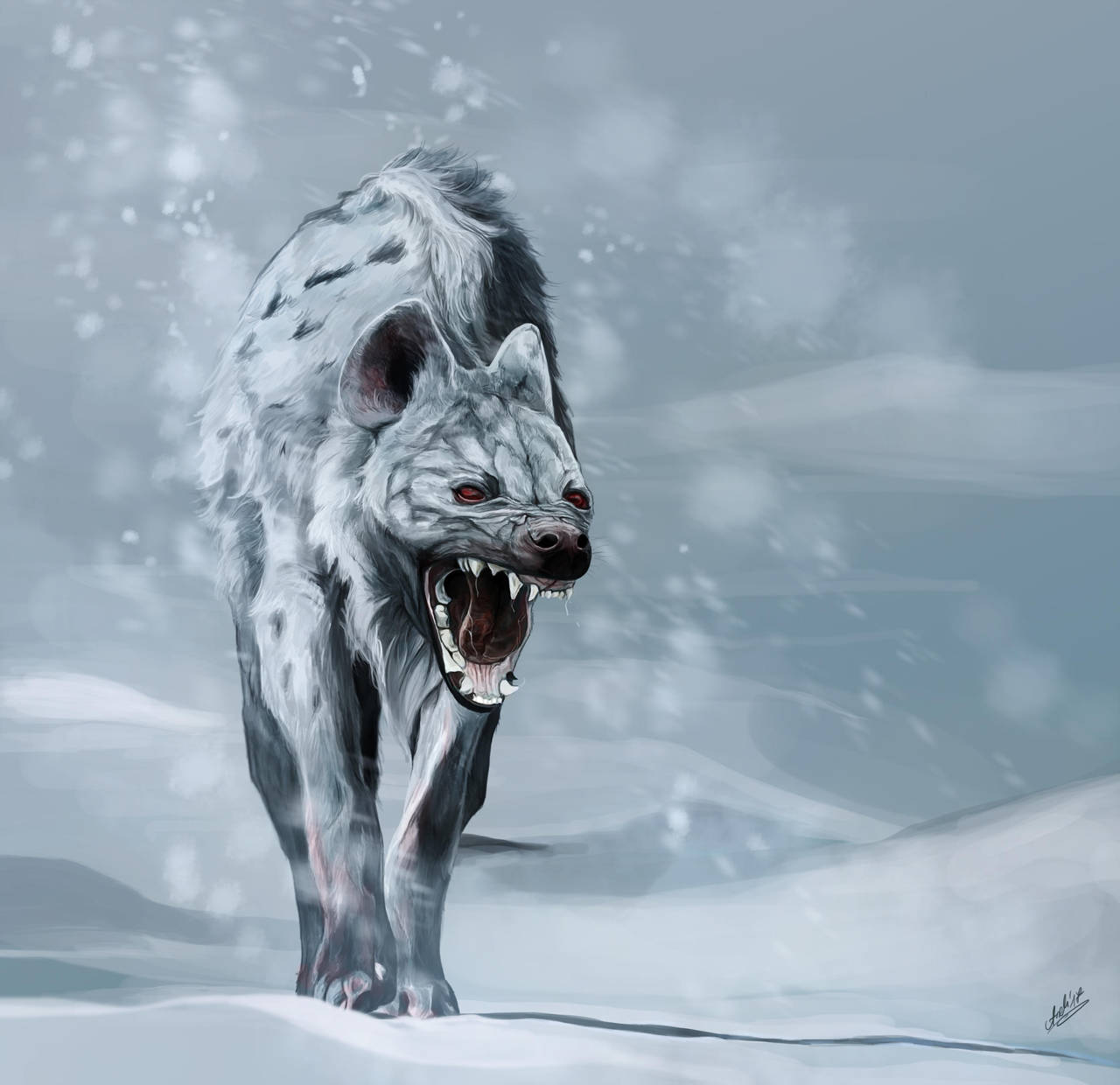 Watch
Ujada jest bestią wyglądem przypominającą hienę, jednak jest od niej większa i nieco masywniejsza. Samce w kłębie osiągają do 130 cm. Ciało ujady pokryte jest białą krótką sierścią wydłużającą się na kończynach, oczy skrzą się na czerwony kolor, który odzwierciedla jej żądzę mordu. Podobnie jak u hieny, mięśnie przednich łap, szyi i głowy są mocno rozwinięte, co pozwala jej na silne i zaciekłe ataki. Również szczęka jest mocno umięśniona, dlatego kiedy ujada dorwie swoją ofiarę, nie ma szans by już ją wypuściła.
Ujady polują w stadach liczących 20- 30 osobników. Polują dopóty, dopóki nie dopadną wcześniej zwietrzonej ofiary. Lubią zmęczyć ofiarę, ale nie mają nic przeciwko nagłym atakom. Preferują średnie i mniejsze drapieżniki. Niekiedy zdarza się, że zapuszczają się na niższe tereny by skosztować mięsa humanoida. Ich biała sierść zlewa się z krajobrazem przez co łatwiej jest im zaskoczyć przeciwnika. Porozumiewają się ze sobą przeciągłym wyciem, a kiedy podejdą bliżej, cichym charkotem.
Żyją na śnieżnych terenach Opuszczonej Wyżyny oraz niekiedy wśród niższych partii Srebrnych Szczytów. Ich sojusznikami są ra- halee. Potrafią wspólnie polować, gdzie ra- halii łatwiej jest wypatrzyć z góry większego i słabszego przeciwnika, ujadzie zaś go wykończyć.
----
Stworzenie to pochodzi ze świata mojej powieści "Księgi Wybranych. Tchnienie"
www.ksiegiwybranych.pl
www.facebook.com/annakowalczew…

I love hyenas so much!! This is a brilliant piece !!
Reply

Only when I painted her I found out how hyenas are beautiful. So all the more thank you for the compliment

Reply

Reply

Reply

No, although it is also a beast that lives in the snowy wastes

When he gets hungry he approaches human settlements and makes a feast there. Being more accurate is "ujada", a beast from the world I created for the needs of a fantasy novel

Reply

Very interesting! Well, it's truly frightening to look at, so I'd say it's very effective

What's the novel about, if you don't mind me asking?
Reply

The title reads: "Księgi Wybranych. Tchnienie" ("The Book of the Chosen. Breath.")
Four women are transferred from our modern world to, most simply, Tolkien's world. I used this phrase to be able to illustrate it best. This world is called Ardia. There, the heroines learn that they are the Chosen, able to wield the power of the elements. The management of the nascent war rests on their shoulders. Unfortunately, nothing works out as it should: they do not cope with powers, they do not know how to wield a sword (because from where?), Someone hunts them for them, wishing them death. Deprived of modern comforts, in a foreign world, in a situation when they have to fight and kill, history takes on a whole new dimension.
Contrary to appearances, this is not a story only for women. The world is brutal, the background is extensive, and the action, immodesty, full of tension

Until then, unfortunately only available in Polish. But who knows what time will show

Reply

The details are just insane; its expression combined with the snow gives off a very cold feeling, making it more intimidating. Wonderful job!
Reply

Thank you, that's the effect I wanted to achieve! It is not an ordinary hyena, but a bloody "ujada", a beast from the world created of me. He lives in the snowy wastes and nobody would ever meet her

Reply