I am an avid cat lover - oh yeahhh!!
Molly and Murry Rule!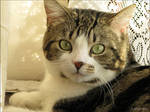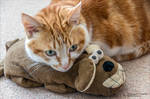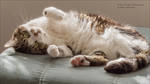 *~*~*~*~*~*
Anna Kirsten are my two middle names, which I chose a long time ago to use as a nom de plume under which any writings or artwork done by me would go.
I spend quite a fair bit of my time here on dA, and enjoy promoting other people's art whenever I can. My two main areas of interest in art are Fractal Art and photography, including a keen interest in macro/close-up photography.
Unfortunately years of chronic illness reduced my ability to carry out anything much in the way of physical activity, and so I turned back to art several years ago, this time on the computer as it's clean and doesn't clutter the place up!
My speciality, developed over several years, is that of creating Fractal Fantasy Scenes in Ultra Fractal. These are intricate and challenging to do, and keep me focussed whilst at the same time enabling me to express something of the spiritual side of myself.
I am a Bible believing Christian, but I have to admit to having a more open mind than many of my brethren on certain issues. For instance, I believe God is bigger than even our enlightened understanding, and that whilst choices have to be made where we are presented with them, if that opportunity has not been there for some, or people have not met the "right Jesus" in life, yet their heart is sincere and true, then they are not necessarily going to be condemned to an eternity of punishment. This would seem to drastically contradict the loving nature of God, who sent His Son to die on the Cross in order to save the whole world - not just some of it! (1 John 2:2 and other Scriptures bear this out.) Talk to me if you would like to know more about my Faith. I'm friendly, I don't believe in pushing my beliefs onto other people who aren't interested, but I am always happy to have amiable discussions with people.
If you're interested, you can see some of my testimonies on this page. Just scroll on down.
I also have a Blog
HERE
which focuses on the more Spiritual side of my life and who I am.
*~*~*~*~*~*~*~*~*
PHOTOGRAPHY
I thoroughly enjoy macro and close up photography of nature, flowers, bugs, droplets after the rain, and also butterflies in the summer. I have also enjoyed shooting scenery, but my efforts are very limited by terrible lack of energy and I cannot walk far at all, so I cannot access the best points from which to take good shots.
For those interested, the photography equipment I have in use is as follows:
* Sony Alpha A550 camera + Sony Alpha 18-250mm lens and Tamron f2 60mm macro lens + Sigma 105mm macro lens.
* Canon Powershot G11 + Raynox DCR 250mm macro conversion lens + several other closeup lenses for closeup and macro work.
MUSIC
My other passion is music. I play keyboards and flute and often play in a worship group. Back in and around 2000 I produced 5 CD's of instrumental music for meditation, composed and played by me and recorded in a studio my husband built for me in our home. Some of the tracks are available to listen to
HERE
*~*~*~*~*~*~*~*~*
My gallery and all the images contained therein are Copyright © AnnaKirsten. All rights reserved. None of the materials contained in my deviantART gallery may be reproduced, copied, edited, published, transmitted, borrowed, duplicated, printed, downloaded, or uploaded in any way without my express written permission. This includes downloading for desktop wallpaper.

My images do not belong to the public domain.
*~*~*~*~*~*~*~*~*
Current Age: Old enough to realise I don't know everything,
Current Residence: Dorset, UK.,
Print preference: Any size.,
Favourite genre of music: Classical, ambient, ethereal, meditative & worship music,
Favourite style of art: Atmospheric and mystical, but not dark; Fractals.,
Operating System:Windows 8.1 awaiting 10,
Personal Quote: This too shall pass!