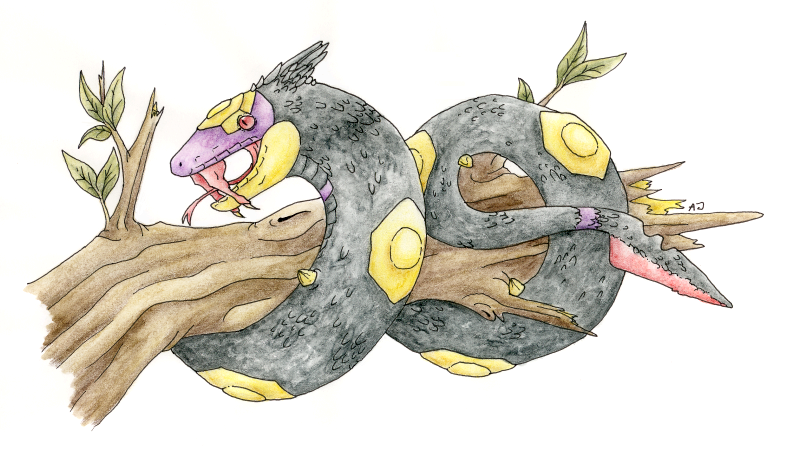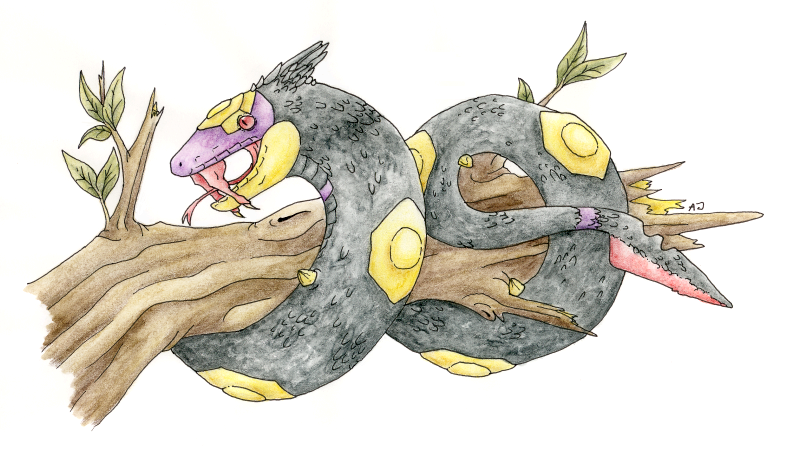 This one is for
And I was supposed to have done it like a year ago or something D:
I'm so sorry

Seviper as a snake... original, isn't it? I was thinking about drawing it as a amphibian for fun sake and with the concept that sevipers design has some things (like the head and tail ornament and vertically folded body) that isn't snakeish at all!
But I drew it as a snake anyways.
Because I suppose that's what most people would like to see it as.
I'm still onto my amphibian version thought C|
I missed on the back pattern too... the whoe back is supposed to be covered with touse yellow plates In a row, but I just made a few, separated ones

Seviper got long, poisons fangs. They are actually so big that they wont suit into the sevipers mouth! But the fangs are very fragile, as they are both thin and long, and a stabilized with a thick, muscley cover of flesh. The meaty cover also makes it possible for the seviper to reangle the fangs at will, and can aim them forward when attacking. Seviper are able to spit poison too, and yet again the ability to aim with the fangs is very handy. The meaty sheet is also partly those muscles that squeeze out the poison, and with all that muscle, seviper can shoot its poison very far or inject it very quickly.
Seviper is a nightly predator, and do not need camouflage. It's brightly coloured however, with typical warning colours in order to make enemies stay away.
Seviper often spend times in trees, and has some special, enlarge scales along it body that helps to fasten it's grip.
Or something.
Pokémon and all pokémon characters © Nintendo, GameFreak inc. & Creatures inc.