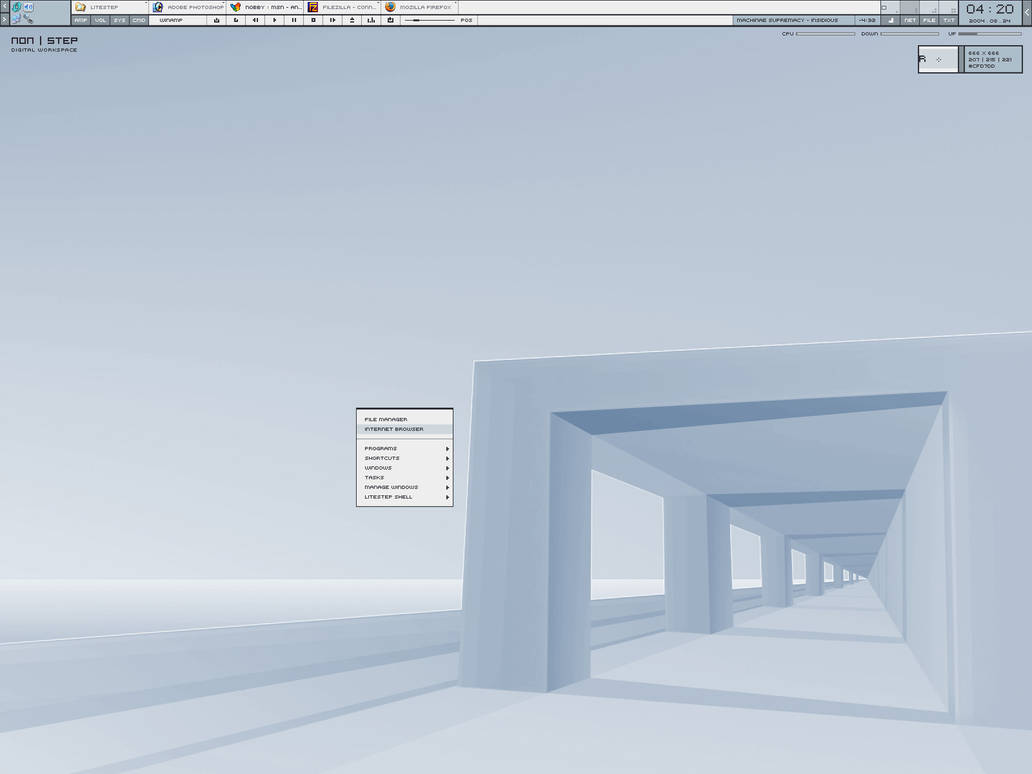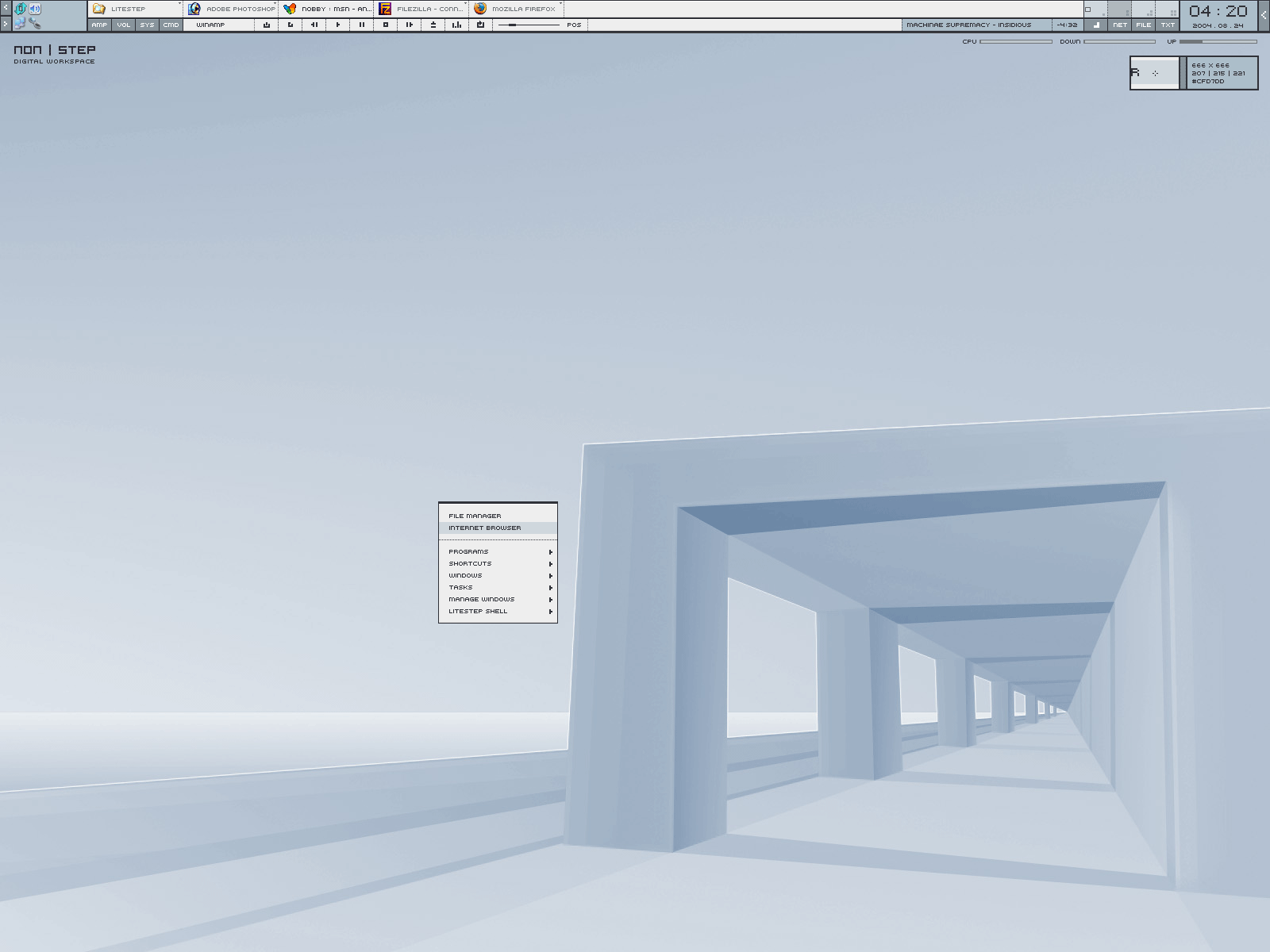 Watch
Non|Step 3.0.8
Updated by
Ankle
,
muhKuh
,
Nobby Nobbs
. [2004.10.20]
Orginal by
Ursula2k
. [2002.08.14]
Changes from 3.0.7:
* Fixed that blasted issue with the winamp time passed/remaining label yet again.
* Added Machinae|Supremacy, Simple|Mix(by Guizmo), Classic|Blue and Classic|Pink(by V.Turn) colour schemes.
* Updated to xTaskbar 1.1.5
* Updated documentation, usage section is now complete for current features.
* Changed classic themes to have 65% alpha transparency rather than 100% from tray tinting(You can see the icons now!).
* Replaced shuffle/repeat/load buttons in resoltions less than/equal to 1152x with the position slider. Much more useful for those with low resolutions.
* Fixed themes with incorrect rainmeter background colours(meterBarBG.png).
Designed with minimalism and ease of use in mind, this interface takes functionality and efficiency to the next level for LiteStep. The theme has two taskbar styles(Classic/Neo), two taskbar modes(Top/Bottom), rainlendar/rainmeter support and skinning, lsmail support, desktop icon support(System/All/None). Includes 18 colour schemes:
- Classic: Blue, Brown, Generic, Green, Grey, Olive, Orange, Pink.
- Night: Black, Blue, Green, Purple, Red, MixBlood.
- KND: White, Vanilla.
- Dark: Blue.
- Other: Simple|Mix, Machinae|Supremacy.
View the screenshot gallery
. |
View the documentation
.
Fully
OTS2
compliant. Compatible with Windows XP/2000/ME/98 & LiteStep 0.24.7 RC3. Windows XP/2000 required for transparency affects. 1024x768 minimum resolution.
Note: The LS Installer doesn't properly handle installing more than one font, you'll have to do this manually. Just copy the font files from $LiteStepDir$themes\nonstep II\misc to $WindowsInstallDir$fonts.
Many thanks to:
- Jromo for his excelent Nonstep Visual style.
- Guizmo for his many Non|Step skins for Winamp/Trillian and Dark|Blue/Simple|Mix colour schemes.
- Garland for his KND colour schemes.
- 143lsstep for updating the orginal theme to the OTS format.
- The guys at the litestep.net forums for support with coding, feature requests, testing, additional colour schemes, and general nice-ness.
- And of course, Ursula2k for her excellent work on the orginal and coming up with the whole concept for the theme!
Matching application themes, wallpapers and more can be downloaded from the
official Non|Step development site
.
More updates will follow!