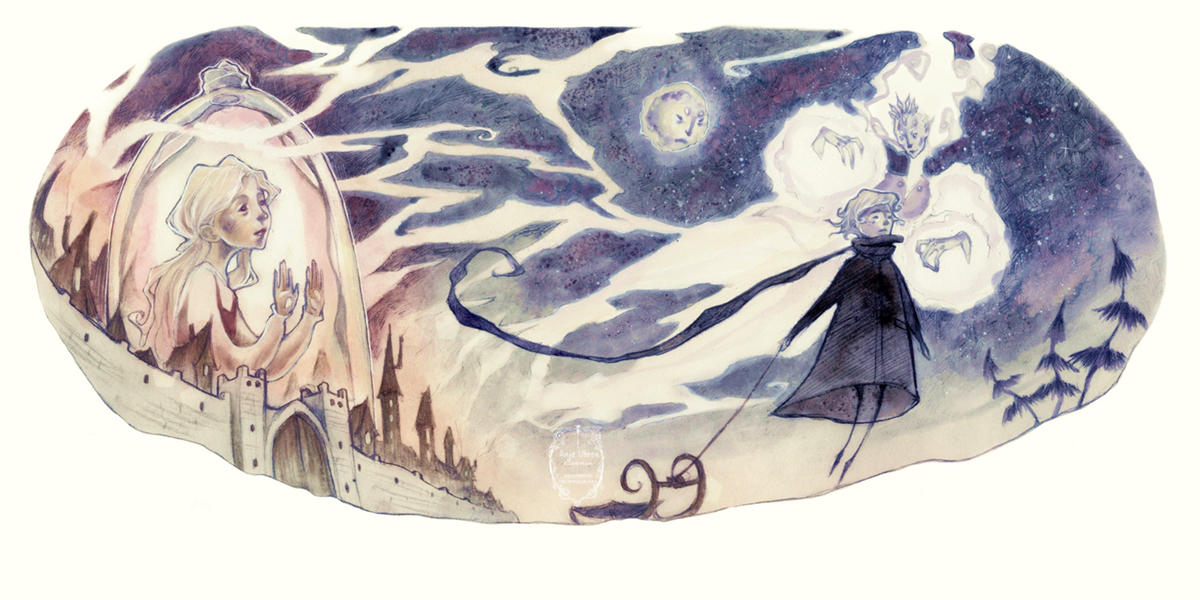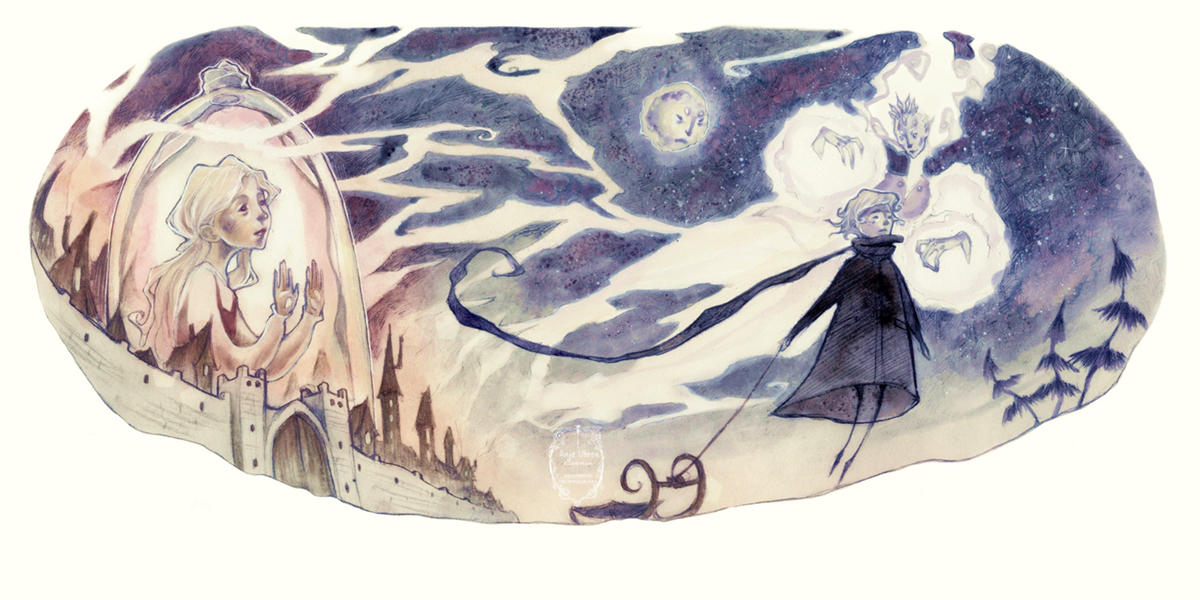 Watch
The book including this illustration can be ordered in my [Etsy] and [DaWanda] online shop if you wish to.
For the latest university project we were asked to produce a cover and 2 double pages for 4 different tales by Hans Christian Andersen.
Fairy Tales have always been a huge inspiration to me and my work so I loved every second of working on this project. Even though I would have enjoyed it more to focus completely on one tale and illustrate the whole thing instead of just interpreting certain parts of four different ones...
Anyway, I learned a whole lot during working on these and am now more certain than ever before that picture books really are what I want to create as an artist. They offer so much expressive freedom and creative choices - it's wonderful.
The first tale I chose to illustrate was 'The Snowqueen'.
Here's a small abstract of the evaluation I had to write at the end, regarding this particular double spread:
'
(...) For the second double spread illustrating 'The Snow Queen' for instance, the abduction of little Kay by the Snow Queen's majestic sledge, as it is described in the narrative, was not chosen to be depicted on the accompanying illustration. Instead the image shows a boy setting out on a quest for knowledge by himself. He is leaving his home and family behind, while the 'Snow Queen' is only a part of his subconscious, created by a monotonous day to day routine, which is symbolized by her consisting of the smoke – the 'refuse' - rising from his home town's chimneys. While this is only the visual interpretation of the illustrator, it is supposed to challenge the reader/viewer to look at the written word from a different perspective in order to find their very own interpretation in-between the lines of the text.

'


If you are interested in reading more about this project you can do so in my [Blog].



[Etsy] | [DaWanda] | [Commission Info] | [Blog] | [facebook] | [tumblr]




Reply
wow! This is really beautiful. I love the composition. I love the snow queen, it's my favorite fairy tale.
Reply

Thank you kindly yet again. (:
It's one of my favourite tales as well, so many magical encounters and important lessons to be learned from it. (:
Reply

Reply

This is another beautiful illustration.*v*
I love reading your evaluations. It's interesting to see your ideas and goal for those who'd be viewing it in the book.

Reply

Thank you so much!

Yes, it's very important to me that my illustrations are not merely decorative but add something to the reading experience.
Reply

I looked at your blog, the pictures were absolutely wonderful! Would there be any chance that you'll fully illustrate a book and sell it? I would definitely buy it

Reply

Thank you so much!

Oh I definitely want to illustrate many books in the future. I just need more time and at the moment the projects for University are my main focus but they're not really long enough to create a whole book....
Reply

it's beautiful! They should hire you to illustrate a fairy-tale book!
Reply

Thank you so much!
That's definitely something I'd love to do.

Reply

Yeah, that would be great!! How awesome would it be when you would read a bedtime story to your future kids and you get to say: Mommy illustrated this herself! I'll tell you how awesome it would be! VERY!
Reply

Reply

wow... interesting interpritation
Reply