I'm opening up for headshot commissions, like this: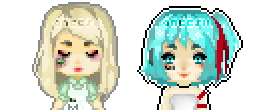 £3 each

Payment:

I only accept Paypal at the moment.
Rules:
- I will draw pretty much whoever you like. As an artist there are certain things I am more confident with than others, so if you have any concerns or if I have any concerns myself we can talk about it.
- I will not show you the image before being paid.
- I require payment within 3 days of order confirmation.
- If you would like a simple animation (wink, blink, that sort of thing) there will be an additional charge of £0.50 to pay.
- Commissions are for personal use only, and not commercial use.
- All commissions are non-refundable.
- I reserve the right to decline a commission.
- One slot = one drawing.
- At least 1 visual reference is required.
Slots:
1.
2.
3.