Welcome to Anime-Comment, a place where we promote commenting and sharing art!
We have a few simple guidelines to follow when submitting

When submitting to the
featured folder
, please follow this guide: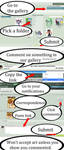 Any art of all skill levels will be accepted as long as it matches with the rest of our rules

No art thefts, traces, heavily referenced images


No discriminatory art (ie. racism, strong politcial views)


Don't be rude. If an admin refuses to accept a submission they will have a reason why.


No mean comments or spam comments.


Please do not spam the featured folder


NSFW content without a mature filter will not be accepted


Submit into the proper folders! (see below)



If you fail to follow the rules, repeated warnings may result in being blocked




Folder Guide
Most folders are straightforward, however if you have questions do not hesitate to ask an admin.

Commonly misplaced folder submissions:


Featured Folder Follow the guide mentioned above in order to submit


Dont Know Where It Goes? Straightforward, however please do not spam this folder. It takes time to sort through if there is a lot of spamming


Chibis All chibis go in here


Non Humanoids Any ferals, ponies, mechs, monsters, and other unhumanlike characters go here. Demons/Angels, Kemonomimi, Merfolk, etc do not go in this folder. Pokemon, Digimon, and other game-based monsters go in Game Fanart


Originals Any drawings unaffiliated with OCs, TV shows, animes, mangas, etc go in here. Requests and commissions belong in Other People's OCs






If you have questions, feel free to note the group