Currently starting a donation pool, as I would like to raise points for different things - including buying core membership for people and for giving it to other deviants in need! 💙

Edit: By accident I removed the Widget and then when I re-installed it, the "progress" on the bar above was gone. o.o So Ty to everyone who donated points here, before the "progress" bar was gone. o.o ouo

*is putting this here while I re-do my page when I have time* xD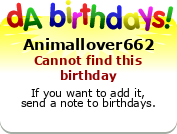 Get your own CrushTag!
---