12 Favourites
0 Comments
127 Views
AG-Publishing
's Original Character from the novel "Chronicles of Eden - Season 2 "
find out more about her in this link:

Meet the new giant butterfly in Eden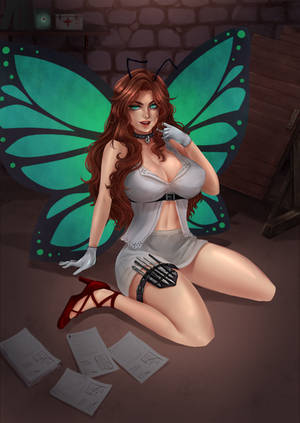 The next Chronicles of Eden book is still being worked on, but this eccentric doctor has already been well established in it, and she just can't wait to tease your eyes with her fierce beauty. In S.2 Act II readers will finally meet the mysterious butterfly known only as Doc, but for now here's her official book illustration to give you a hint as to what you're in for with this lovely lady.
For anyone who can't wait, her introduction scene is available to all subscribing patrons on my Patreon, as well as the first chapter of the upcoming book and many other sneak peek snippets of what's coming up for supporting patrons. Link is HERE. Until then, feast your eyes upon the magnificent, albeit slightly psychotic, doctor of Stonegate.

Software used: PaintToolSAI

Huion
---------
like my artwork? please help me share it to others by following my official accounts;

Tumblr
|

Facebook
|

Instagram

Artstation

Commission
|
Gallery
|
Note Me
--------
More info:
www.deviantart.com/anicrys/jou…
Please do not use my artworks in any form without permission! Thanks!
IMAGE DETAILS
Image size
1024x1447px 1.72 MB