I will feature the
first 10 users
who comment on this journal below.
Next to their avatars, I'll link three of my favourite gallery pieces with full thumbnails and say a few words about their profile
If you comment here
you must make a journal like this
and do the same thing as I have,
putting me in the first slot.

1 ::
DEM0NIC-Spirit
What inspires me to see, is skill and style progression. The three works above really show the advancement has made in even less than two ears, from simpler linework to strong anatomical accuracy and detail.
2 ::
IronSlate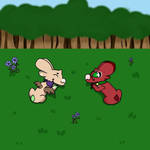 There isn't much I can see yet of this artist, but especially of the middle drawing I can see the fundamentals of sketching are slowly there to come. What I would love to see is a bigger variety in poses, something I'm sure that in time will get easier and easier to do!
3 ::
Layalu
What's there possibly to add? There are so many things this artist already masters; Anatomy, Lighting, background detail and linework. What I especially love is the manner this artists picks out situations and expressions to draw inspiration from, something many people can learn from!
4 ::
whirlawind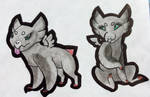 Having known this artist for just as long as I've been in the wyngro group, I've seen her skill graduately growing. Like said in the first comment; progression is what I love to see. "
The true master, is the eternal student."
5 ::
TheShadowFell
Possessing knowledge into a vareity of poses and expressions is not easy, and the fact that nearly all drawings made each hold their unique expression, makes something worth mentioning and excelling at.
6 ::
lilacsunsetss
The progression with the lineart has been graduately improving when I compare these three deviations chronologically. Over time, they've been getting more smoother and in turn allows the artist to show more detail.
7 ::
8 ::
9 ::
10 ::