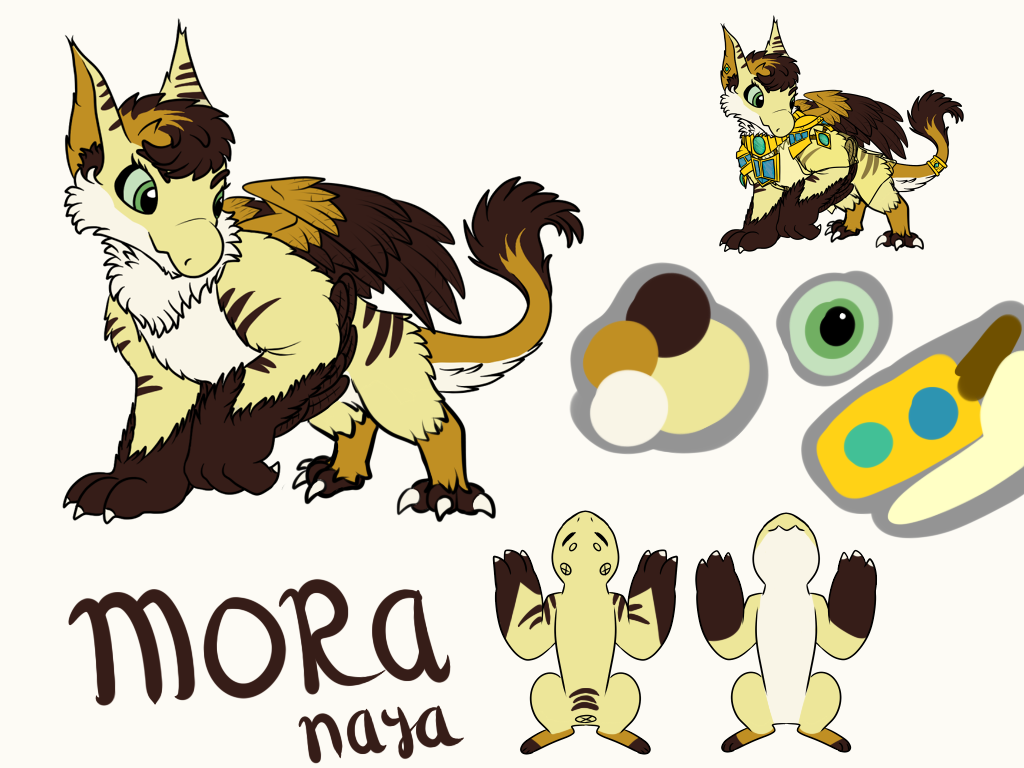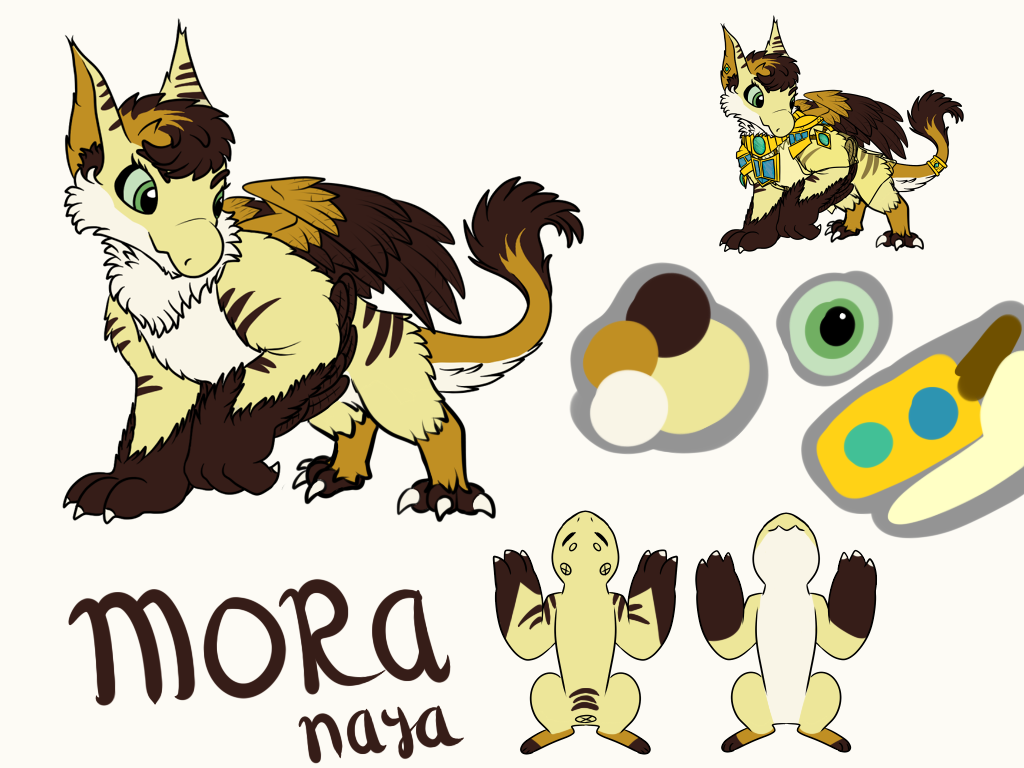 Watch
Name: Mora Naya
Sex: Female

Gender: Female
Type: Standard

Round/Bump Nose: Bump

Current Age:
Adult
D.O.B.:
31st of May
Form: Quadpedal
Upgrades:
Pupils
Wyngro - Hey There~
Colored scalera
Wyngro - Memories
elegant hair
Wyngro - Memories
hair tuft
cheek fluff
coatala ears
feathered arm wings
small>medium>large feathered back wings
Wyngro - Be home fast (Wind Week 2)
(saving) /
Wyngro - Early preparations
(helping)
Supple Tail
Elegant tail tip
Wyngro - Early preparations
noble neck fluff
Wyngro - Swift (Inktober 1)
Wyngro - Divide (Inktober 2)
Wyngro - Underwater (Inktober 4)
Wyngro - Sword (Inktober 6)
Wyngro - Shy (Inktober 7)
defined claws
Wyngro - Early preparations
limb fluff
body fluff
striped markings
tail fluff
brow changer
butt fluff
Wyngro - Memories
Quirks:
Sometimes hard to be taken serious due to flirty nature.
EXTRAS
Friends:
Shay (Adoptive Father), Kia
WarriorsFanGirl1920
, Savannah
Charliebug3
(Adoptive Mother), Glory
ASTRAGATO
(Adoptive Sister), Tibbers
youtube-addict
, Karma
Tyrunt-Overlord
, Lavender, Celabon
IronSlate
Enemies:
unknown
Mate/Crush:
Renault
NinjaSoilder
Sexual Preferences:
Male
Magic:
Basic Wind
Accessories: Gold Ear-ring, Golden necklace, garment with golden shoulderpads and golden leg bracers.

Companion Pets:
none
Important Possessions: none
DESCRIPTION
Mora Naya was found along with Glory's egg, in a cave during a heavy storm, where the biological parents tried to hide but sucumbed from their wounds. Their adoptive fathers, Shay and Aurin, each took one of the eggs to care for them.
Mora has been mostly raised on her own. With her father mostly at work and her first mother who left the family, her only companion was Prince, their pet coatala. This solitude changed her significantly, but taught her to stay more self-sustained. While she previously used to be flirty, she now is very loyal to those that spend time on her.
ROLEPLAYING
Accepting Roleplays:
Selective
Preferred roleplay source: DeviantArt Notes
Writing skill level: Nearly Native.
Preferences: Anything goes. Literally, anything.
CHARACTER ACTIONS
(How your character acts in situations)
Meeting new Wyngro: Formally greets them.
Meeting new species: Highly curious, trying to calm them and drawing closer.
Being surprised: Flops on her back.
Being touched:
Nothing special
Actions when sad: Wants to be with anyone to at least not feel alone.
Likes: Leffa leaf
Dislikes: Fighting


Base top/bottom views made by the talented swagyatta