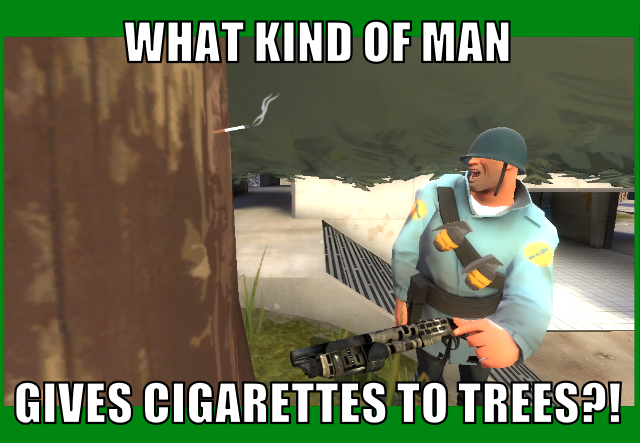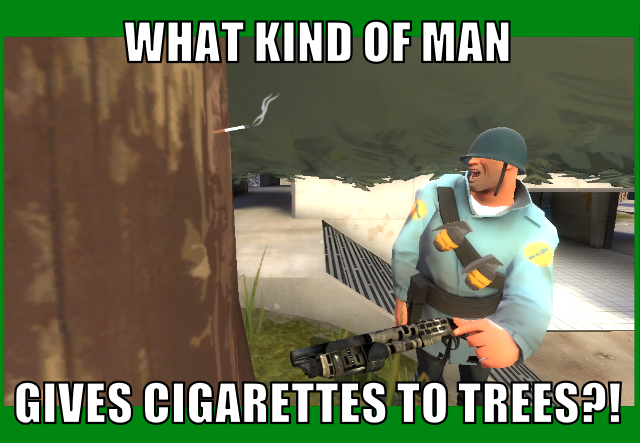 Watch
One of my favorite lines from any of the late, great comedian's films has to be that in The Survivors (1983), where he starred with Walter Matthau and singer Jerry Reed.

Describing the movie scene does no justice; look it up some time and watch.

Tried to Gmod the whole thing, but could not find a cigarette prop. Improvised and used Paint to put it in here.

TF2 TM Valve.
The Survivors (C) Columbia Pictures, 1983.
Made with Garry's Mod and Meme-Generator.

The first thing that comes to my mind when I read that is actually that song "Big Rock Candy Mountain". Something about Cigarette Trees? Said song also sometimes says "Peppermint Trees" instead. Personally, I find both tobacco and peppermint disgusting, but if I had to pick one, it'd be peppermint. Because it's not as deadly.

As for "The Survivors"... I've never seen it. Robin Williams is one of the greats, though. When he's funny, he's FUNNY.
Reply

Man, I forgot all about that song! "Cigarette Trees"...Hah, I may have heard that version long ago, but it's obviously cleaned up by now.

As for the movie reference, you'd like it. Of his early works, that would be his best, though he would go on to better ones some time after it.
Reply