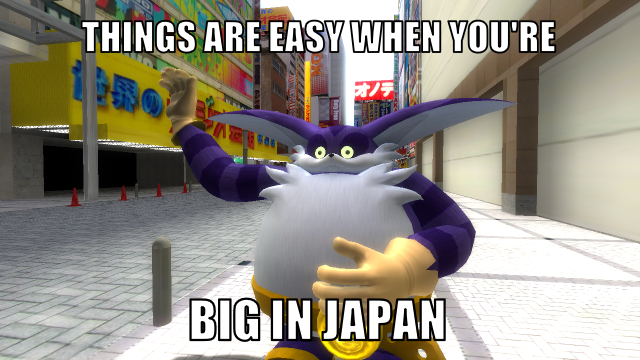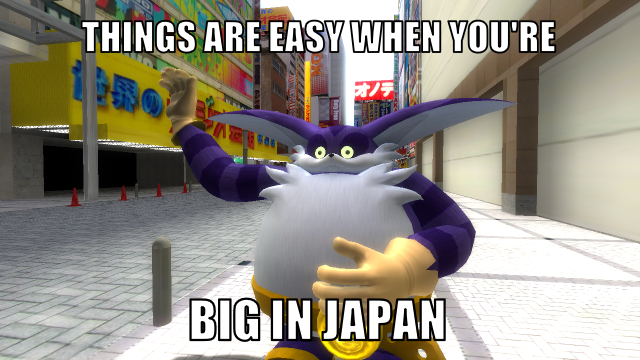 Watch
Finally found a couple of things I could easily load onto Gmod to make this visual pun. Took a while to find a decent Tokyo-style map, but not as long as it did finding the right pack to give me the character!

"Big in Japan" by Alphaville.
Written by M. Gold, B. Lloyd, F. Mertens.
(P) Warner Music Germany, 1984.
Big TM SEGA, Sonic Team.
Made with Garry's Mod and Meme-Generator.

i'm guessing Big is looking for froggy
Reply

Could be. That frog will end up just about anywhere!

The downside is that some time after getting this map, it kinda disappeared from my list of add-ons. I asked about that, and because it was an old, OLD map, it just wasn't working so well for some reason.

Oh well, great to bring out the song pun while I was able. Look up that song on YouTube if you're curious.
Reply

Obvious pun is obvious. Still, I hear there's plenty of fun for a guy like Big to have in Tokyo.
Reply

Reply

I read the comic adaptation of Sonic Adventure via the Archives reprints, and the way they did Big's dialogue, he sounds a lot smarter than the games let on, IMO.
Reply

I smiled through the pain
Reply

Reply