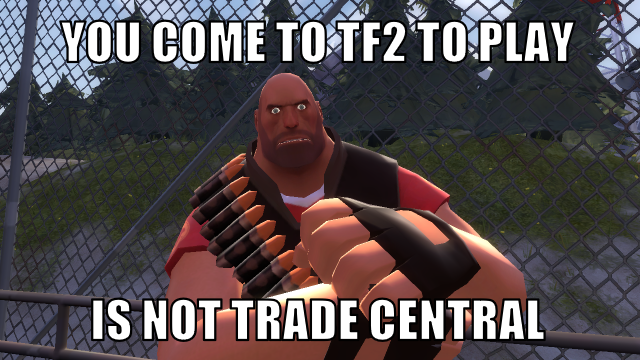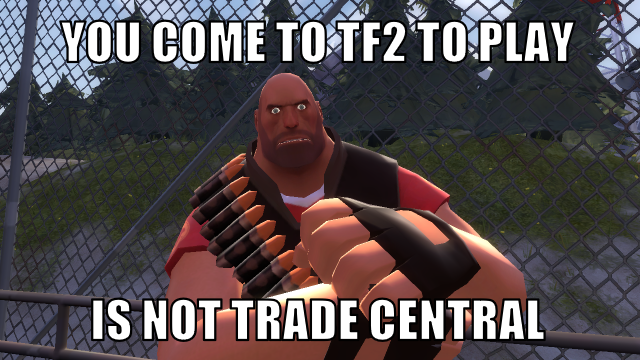 Watch
I have had to block a couple of people who had contacted me from my Friends list in recent weeks, largely due to the fact that when trying to play my way through a map, they kept coming back looking for stuff, never mind the fact that there are other people on their Friends lists.

So I made this as a spray. Sure, there are trade maps for that sort of thing, but this is for those levels where people are actually there to play.

TF2 TM Valve.
Made with Garry's Mod and Meme-Generator.

Yeah, you wish you could trade your 2015 visor for my sweet Top Hat with the Flower growing out of it! Set me back 100 buck in real world cash. But then, I would willingly trade one of my lesser hats for the awesomeness that is the "Bigger Head".

...Oh wait, that's ROBLOX. I've still yet to play Team Fortress 2. But in the end it all comes back to "I want that hat!", right? Or maybe a weapon or tool? Whatever, it all costs money... or is earned through difficult or tedious tasks.
Reply

Oh, man, right?! And it's not like one would have extra upon extra of certain hats...unless you bought a load of keys during that End of the Line promotion, that is.

One of the people I had to ultimately block would keep putting all caps in chat, so that was the extra irritation. In the end, I had nothing for him, he was pissed, "bye bye."
Reply

Reply

Exactly!

Seriously, though, there are maps where you can meet with other players and trade items that you have found or crafted. Often, it's for other items or amounts of metal (scraps, reclaimed, most likely refined). Problem is, there are those who simply think the whole idea of the game is to do just that, objectives be damned.
Reply

This is a war, Not some teaparty, Take your trading back to Pokemon MAGGOTS.
Reply

Reply

If you can't handle that then crawl back into your covers and play with care bears,
Reply

This ain't baseball cards, ladies! No way in hell you're getting my Nolan Ryan rookie card for by slippin' me a bunch of Carlos Silvas. Silva? He wasn't worth his weight in COPPA!
Reply

Reply

As we should all. I can't tell you how annoying it gets sometimes when you're trying to fight your way through a map and that happens...every few minutes...
Reply