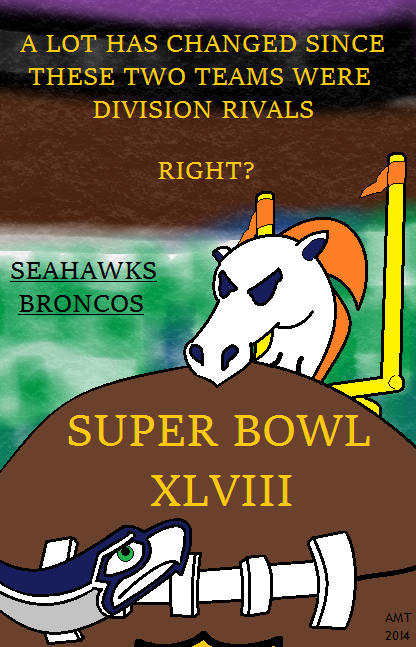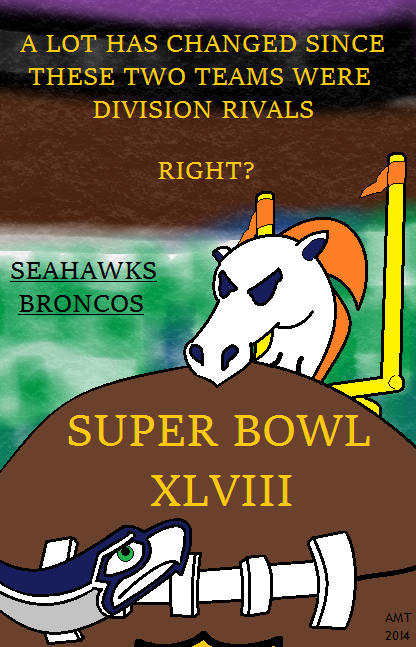 Watch
I went ahead and tried to improve on the pic I had uploaded earlier, and here's how I did it!
1. Saved the pic from my cell phone to my computer files
2. "Traced" over the ink using MS Paint.
3. Colored in traced area--no easy task when you have to fill in every tiny off-color pixel
4. Saved it under a separate file, we'll call it "48A"
5. Created rough background to simulate blurry crowd at stadium, saved as "48B"
6. Copy/Pasted 48A to part of 48B, making sure transparency was on for A's background color
7. Searched for perfect font for the text
8. Saved whole shebang as "48C"
WHEW, but a lot goes into this!
Case in point, UPDATE 2/27: Missed a bit of goal post upright that would have been seen behind Bronco, just near his neck.
Super Bowl and logos TM NFL.

Reply

Reply

Thanks! Who do you like in the big game?
Reply

Haven't really watched.....but it Is nice.
Also, I linked on the diverting links thingy.
Reply

Oh, it's on this Sunday. I just didn't know if you or your family preferred Seattle or Denver.
I'll get to the links soon enough. I'm only on for a little while as I'm out and around at the moment.
Reply

Oh okay. What're the team?
Reply

It will be the Seattle Seahawks against the Denver Broncos. They both finished the season winning 13 of their 16 games and really put on a show during the playoffs.
Denver has the best offense, but Seattle's defense is top-ranked as well. Should be a VERY interesting matchup this weekend.
Reply