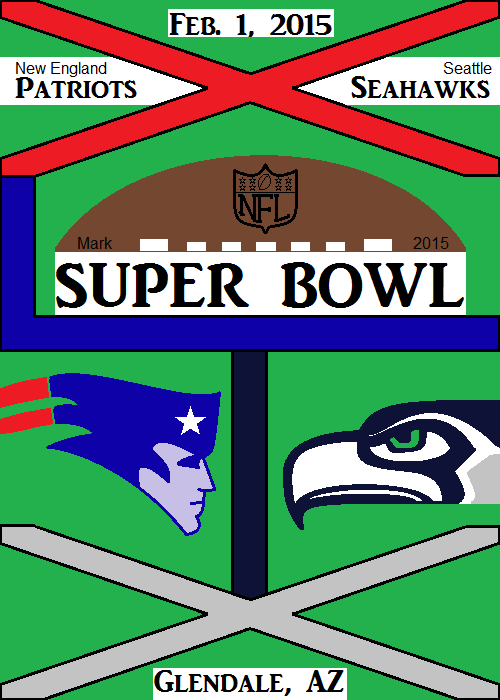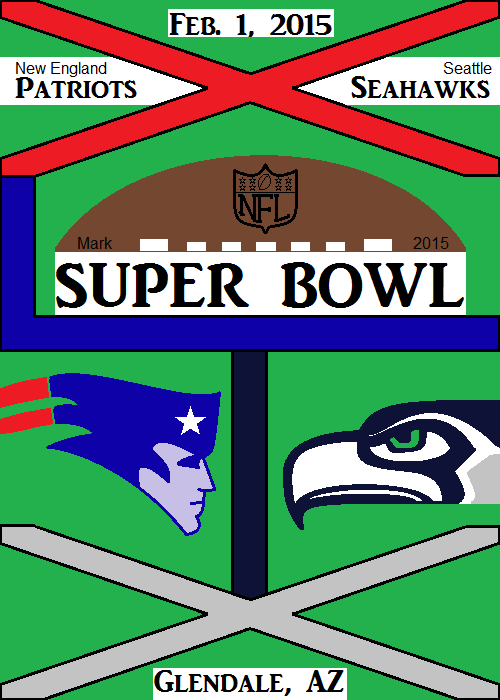 Watch
Prepped this for the big game on Feb. 1, '15. Had to search Google Images and try to make these look like the logos from the helmets of both teams, these made from scratch.

Logos and properties TM National Football League.

Best meme I've seen of the Seahawks with Kip from Napoleon Dynamite: "Been a Seahawks for about two years now, guess you could say things are getting pretty serious."

But really, looking forward to this big game. Both look equally balanced.
Reply

Seahawks made fools of their last Super Bowl Challengers. Let's hope they can do it again. Go Seahawks!
Reply

This really happened: Over the weekend, my gf and I were at the baseball Fan Fest, and we came across a huge board where people could write in and wish the football team luck in the SB.
One of the people wrote in: Deflate the Pats!

Reply

Personally, I think it would be funny if the Patriots lost, and then someone on the team admits the "Deflate Gate" rumors are true.

"Today's Headline: PATS DEFLATED: Another scandal has broke out in the NFL. And this time, it actually has something to do with Football!"
Reply

Oh man, is it really on the 1st? =o
Reply

Reply

Woah, that's actually like really soon


welp i guess i best prepare for noises in the living room (if my parents even bother with watching football anymore :V)

Oh, I had one more pic done today, too, but it's more of a valentine's day pic. I could note it to you, but I don't think i'll put it on dA just yet.
Reply

I gotcha.

Yeah, the way things go: We'll watch it here, and we usually record the SBs for our own library, but the digital antenna may muck things up this year...Hope not, really.

One thing's for sure, should be a good one, especially with Seattle with a chance to repeat as champs!
Reply

Reply

Oh, you aren't kidding!
One thing I gotta remember is not to call my gf during the game. Her folks will watch it, but she gets incredibly nervous about her favorite teams, especially considering the recent news about the Patriots and their squishy balls.
(Phrasing...JINX!)

Reply

Reply