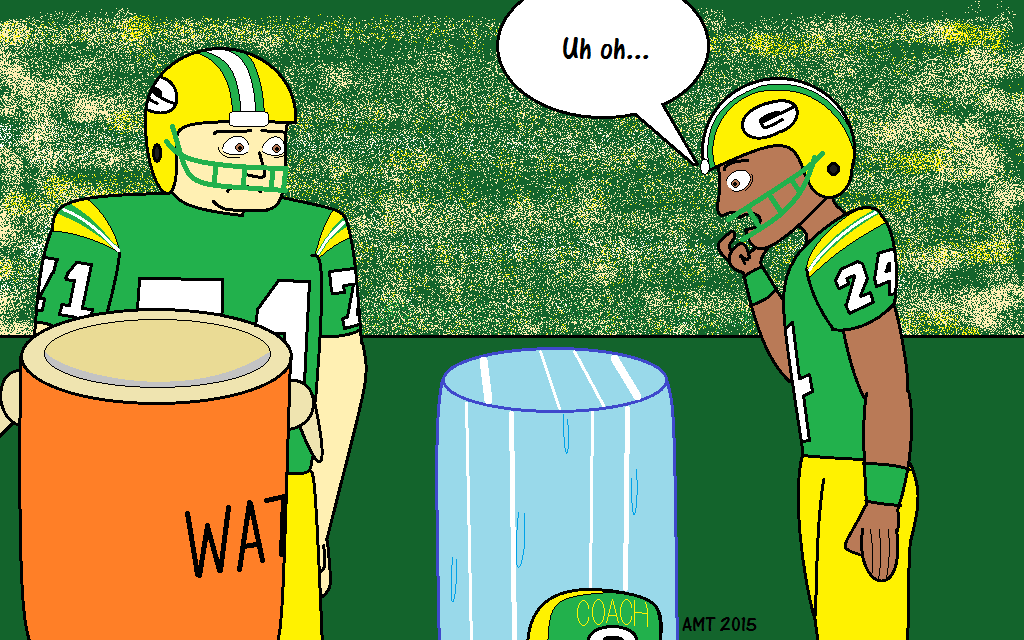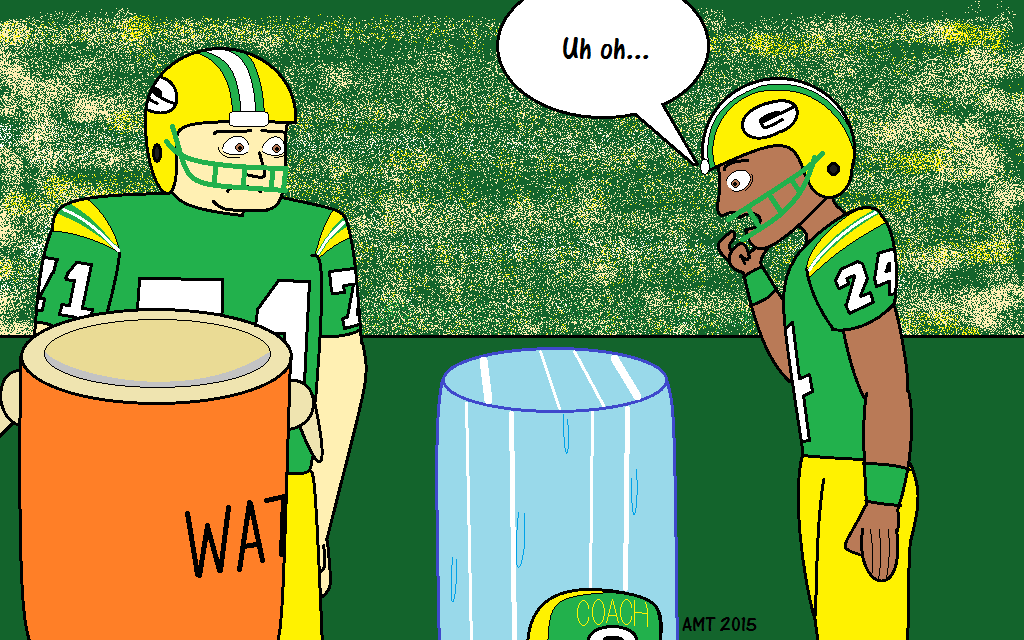 Watch
For those not up to speed in sports, here's an explanation:

In American football, teams have been celebrating big wins by dumping their big buckets of water or Gatorade on their coach since the New York Giants started it in the 1986 playoffs, en route to their Super Bowl XXI win over the Denver Broncos.

Now, take another aspect. During the playoff season, things get pretty nasty-cold in Green Bay, Wisconsin. Ask anyone who'd been at the Packers' game against the Dallas Cowboys in 1967, the infamous "Ice Bowl." So named because the temperatures dipped as low as -15 degrees Fahrenheit, and that's not counting the wind chill!

Put the two together, and...well, the player on the right says it all.

Don't get me wrong, though. I have respect for most of the other teams in the league, including the Packers, who at time of submission, had eliminated the Cowboys in the divisional round. They get to come to Seattle for the conference title.

Based on an old drawing I did years ago.

Packers logo TM National Football League.

i dont think thats how you do the challenge
next time do it with some water in there


I'M SORRY I JUST HAD TO
Reply

The ice must have gotten to the refs heads because that was CLEARLY a catch by Dez.

Oh well. Patriots are taking home the Lombardi!
Reply

As someone who's spent time in Wisconsin during the winter on multiple occasions, I can confirm this.

Also, GO PACK GO.
Reply

In that case, let's have a real good game this coming Sunday.

I don't believe in all that smack talk crap.
Reply

...Oh! I get it! He's dead! *Uncontrollable laughter*

...*AHEM*... yes. Anyways, that's great. I'm surprised I've never seen this kind of joke elsewhere.
Reply

I guess they should have stuck to Gatorade!

Then again, that probably would have gotten frozen back then too. But anyway, Congratulations on making it to the NFC Championships, Packers!

PS: For the NFC Championship game, I'll still be routing for the Seahawks, just for the fact that they're the defending champs.
Reply

I almost considered the Gatorade, a big orange pillar, but if the coach had to be clobbered by anything, "that is some good-quality H2O."

(Searched the character map; couldn't find the little 2 that goes at the bottom)

As for the PS, same here. Been in the Seattle area so long, you just gotta do it! Just that this year, we've been able to beat Green Bay (opener), but had our troubles with Dallas (before our defense got back to normal).
Reply