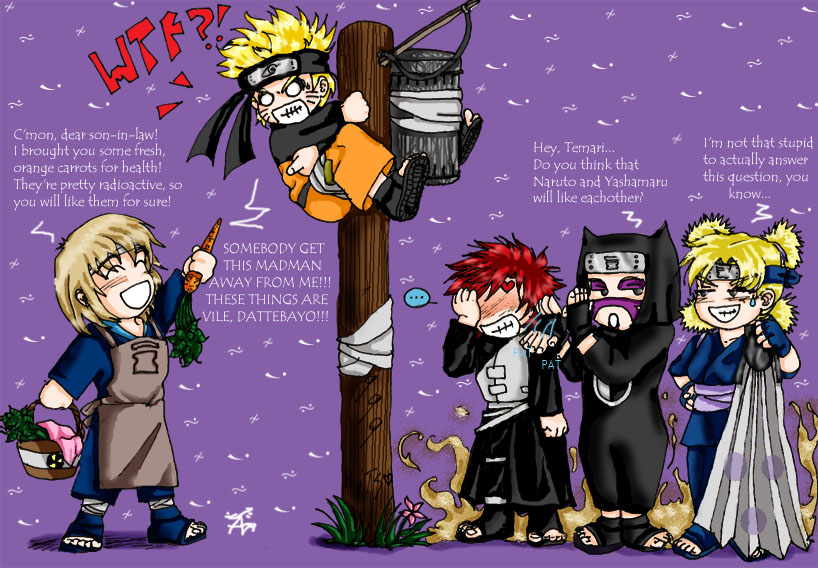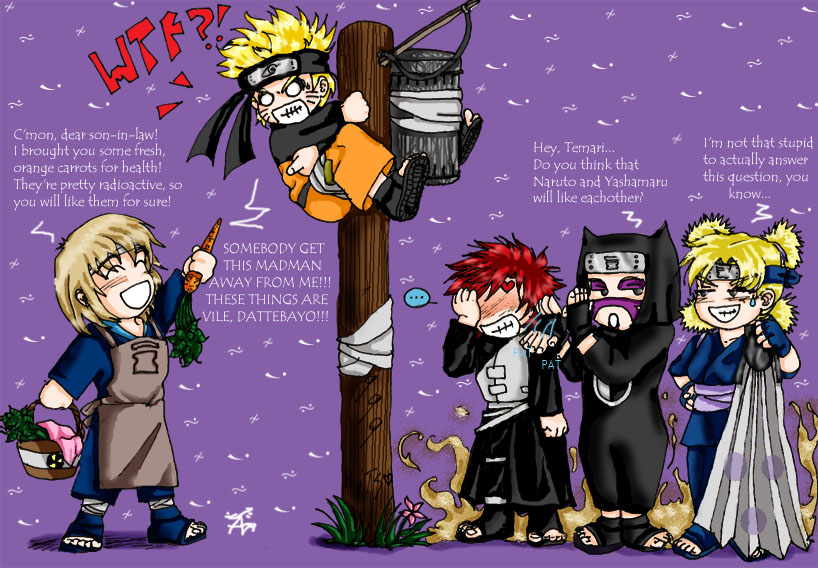 Watch
They chase you with their radioactive carrots and poison you with them and then they say to their loveable kids that's all in the name of love. 1.999 kiriban for

Hope you'll like it!

-Yashamaru.
The times has stopped. Gaara, the almost-Kazekage spoke in the silence of the room.
-Yes, dear child? - answered the blonde man, putting the newspaper down - What can i do for my beloved nephew?
-I'm bringing Naruto for dinner tomorrow - Gaara said - Be nice to him. Please.
Kankuro looked at Temari. Temari has only shaken her head and got up from the sofa.
Gaara said 'please'. The Armageddon was obviously breaking down tomorrow.
***
-Hey, Gaara!
-Naru...
The rest of the sentence has drowned into the loud 'whoop' and laugh of the foxy blonde. Naruto, being more mature and older a few times than he was when he first met the red-headed boy, still hasn't got any manners of how should a proper human behave in the Sand village. No running (it was very loud inside the full of echoing streets of the village), no screaming (mind the disturbance), no snogging the Kazekage on the street (the paparazzi don't sleep) and any other things, that shouldn't be done, were actually the things, that Naruto liked to do with the most possible show off. So, he run from the far off distance, laughed all the way from there and nearly started a make out session on the very ordinary, so full of people, street. Gaara thought, that one day he will actually slaughter him, just to have some kind of peace AND Naruto in one time and place.
Not that he actually wanted to.
-Naruto... mpphhh, Naruto! - he hissed, closing the black-n-orange blouse of the foxy blonde - Get a hold of yourself! I want you to meet someone.
-But Gaaara! - whined the blonde - I missed you so much! Why do you have to bring up someone third now!
-Because it's important - Gaara sighed. Naruto was behaving like if they didn't see themselves in a week and was getting gluey when he needed him in the straight and ready pose - Yashamaru! I brought Naruto.
-Aaah, Naruto-chan! - said the sweet voice, and then the smiling face of the Gaara's uncle has shown in the entrance door - So you're the boyfriend of my beloved Gaara! Please, take this for the good beginning of our relationship...
-Good morning... - said Naruto, looking ashamed that he didn't brought any presents by himself - Thank you... what is it, dattebayo?
...and the answer is on the pic

Welcome all of you who went into 'wtf' expressionXD This idea shows what would happen if Naruto and Gaara wanted to be together and Yashamaru was still alive and had amnesia (he would be OH SO IN LOVE with his dear Gaara-nephew). I still wonder why the heck radioactive carrots (the idea of the kiriban belongs to ~
Arashiek
) but I'm not the one to question anyone's sanity since I really enjoyed drawing thisX3 I hope that you'll all like this one^^