I'm a Traditional Artist for the most part, even though I do sculpt, paint with oils, water colours and write novels. I travel a lot . I like mixing traditional with digital now and then too.
I am a direct descendant of Marie LaVeau, the infamous Voo Doo Queen of New Orleans. I use the title "Creole Voo Doo Princess" as more of a curiosity than anything. Like Marie, I'm Catholic by Day, and VouDon by night.

The name LaVeau makes some people scared and others curious. I love my heritage. .

I love to travel and experience new things. I fear nothing and I like to explore scary things and places. It frightens some people, but that's ok. That's just how I roll...
Time Till My BIRTHDAYBugsr/>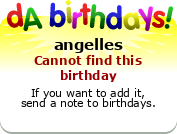 Current Residence: No where and everywhere at the same time...
deviant WEAR sizing preference: XS, S
Print preference: Matte, LARGE
Favorite genre of music: Anything that moves me or makes me want to move.
Favorite photographer: Annie Leibovitz, David Le Beck (RIP), CM Wolett, Lourdes LaVeau, Scott McEwan, Kevin Carrico, Perry Gallagher
Favorite style of art: Traditional, Portraits, Surreal
Operating System: Windows 7
Shell of choice: Those on beaches which can be gathered.
Wallpaper of choice: Paint, wallpaper is just too sticky...
Skin of choice: His...
Favorite cartoon character: Bugs Bunny
Personal Quote: "We gladly feast on those who would subdue us... Not just pretty words..." Morticia Addams