I'm a Traditional Artist for the most part, even though I do sculpt, paint with oils, water colours and write novels. I travel a lot . I like mixing traditional with digital now and then too.
I am a direct descendant of Marie LaVeau, the infamous Voo Doo Queen of New Orleans. I use the title "Creole Voo Doo Princess" as more of a curiosity than anything. Like Marie, I'm Catholic by Day, and VouDon by night.

The name LaVeau makes some people scared and others curious. I love my heritage. .

I love to travel and experience new things. I fear nothing and I like to explore scary things and places. It frightens some people, but that's ok. That's just how I roll...
Time Till My BIRTHDAYBugsr/>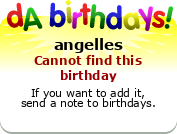 Current Residence: No where and everywhere at the same time...
deviant WEAR sizing preference: XS, S
Print preference: Matte, LARGE
Favorite genre of music: Anything that moves me or makes me want to move.
Favorite photographer: Annie Leibovitz, David Le Beck (RIP), CM Wolett, Lourdes LaVeau, Scott McEwan, Kevin Carrico, Perry Gallagher
Favorite style of art: Traditional, Portraits, Surreal
Operating System: Windows 7
Shell of choice: Those on beaches which can be gathered.
Wallpaper of choice: Paint, wallpaper is just too sticky...
Skin of choice: His...
Favorite cartoon character: Bugs Bunny
Personal Quote: "We gladly feast on those who would subdue us... Not just pretty words..." Morticia Addams
Favourite Visual Artist
Old Masters, HR Giger, Gerald Brom, Andrew Gonzalez
Favourite Movies
7,9th Gate,Constantine,Fight Club,Great Expectations, Limitless, Swordfish, The Girl With the Dragon Tattoo,The Skeleton Key, Twister
Favourite TV Shows
The Big Bang Theory, Swamp People, Paranormal State (A&E) A Haunting (Discovery Channel)
Favourite Bands / Musical Artists
Nickleback,Saliva,NIN,3DoorsDown,StabbingWestward,DefLeppard, Seether, Chris Daughtrey
Favourite Writers
Too Many
Favourite Games
Mind, Chess... and well BASEBALL
Favourite Gaming Platform
"Gutters and Glittering Lobbies"
Tools of the Trade
Sketch Pad, Pencils, Water Colours, Digital Camera, Travel
Other Interests
NYY Baseball, Astronomy,Human DNA, Paradimentional Theory, Paranormal Activity, Quantum Physics, and Storms (Tornadic or Hurricane)