Follow this project online at:
PATREON
|
Facebook
|
Twitter
|
Tumblr
|
Instagram
|
Website
Detail shot & matching mask: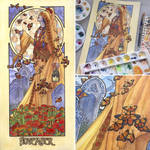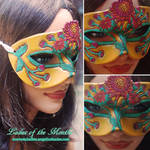 The Lady of November bears the Chrysanthemum and dons the stone of Topaz. The Chrysanthemum represents cheerfulness and the Topaz will bring her strength and wisdom. She ushers in a time of fading light and remembrance.

10x20 inches, watercolors and ink on illustration board with gold liquid leaf accents.
---
I'm so excited to share this with you guys! This painting has been one of THE most challenging images in my Ladies of the Months series to date and definitely one of the most detailed.
I wanted to see what would happen if I dedicated myself fully to an idea, no matter how intimidating it was to execute! The result was an image that equaled a lot of struggle with fear that I wouldn't be able to pull this off.
I would say 'never again' for driving myself this insane, but there are still 5 Ladies left! *insane laughter*
---
SHOP: (For Prints)
angelicshades.etsy.com
(For Masks)
angelicartisan.etsy.com
SITE:
nouveauladies.angelicshades.co…
More of this series: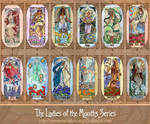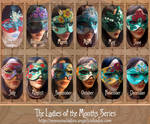 Like this series and want to help me make it the best it can be?
Sponsor me on Patreon
for sneak peeks, wallpapers, process videos, & more!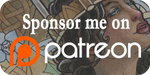 Image details
Image size
499x1000px 319.06 KB