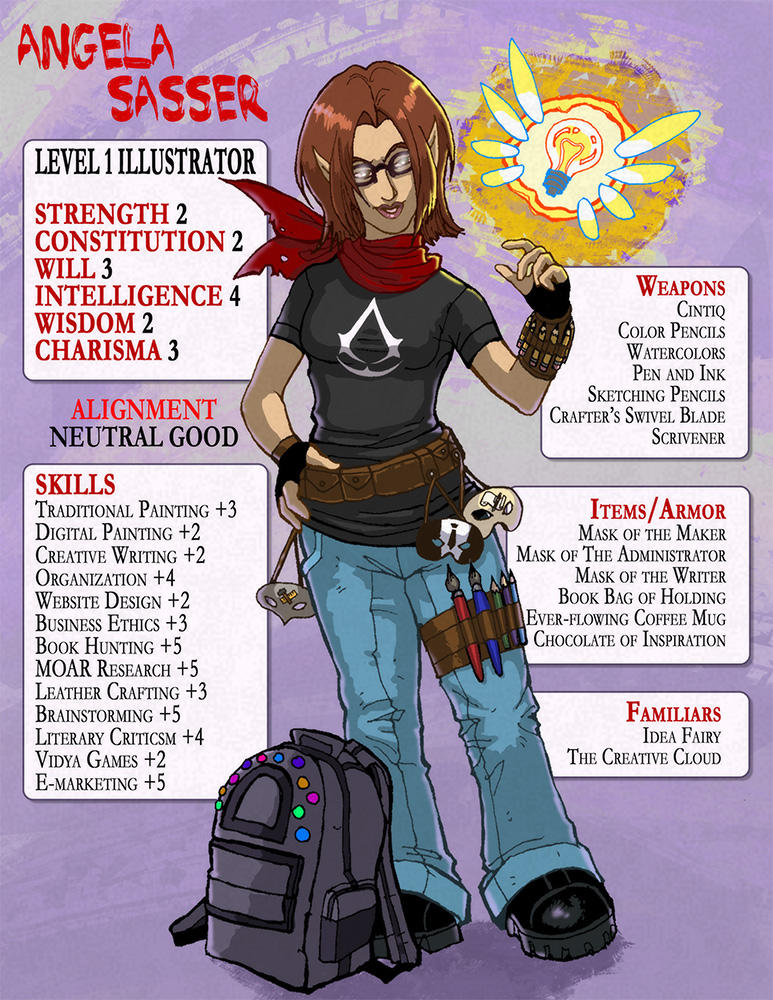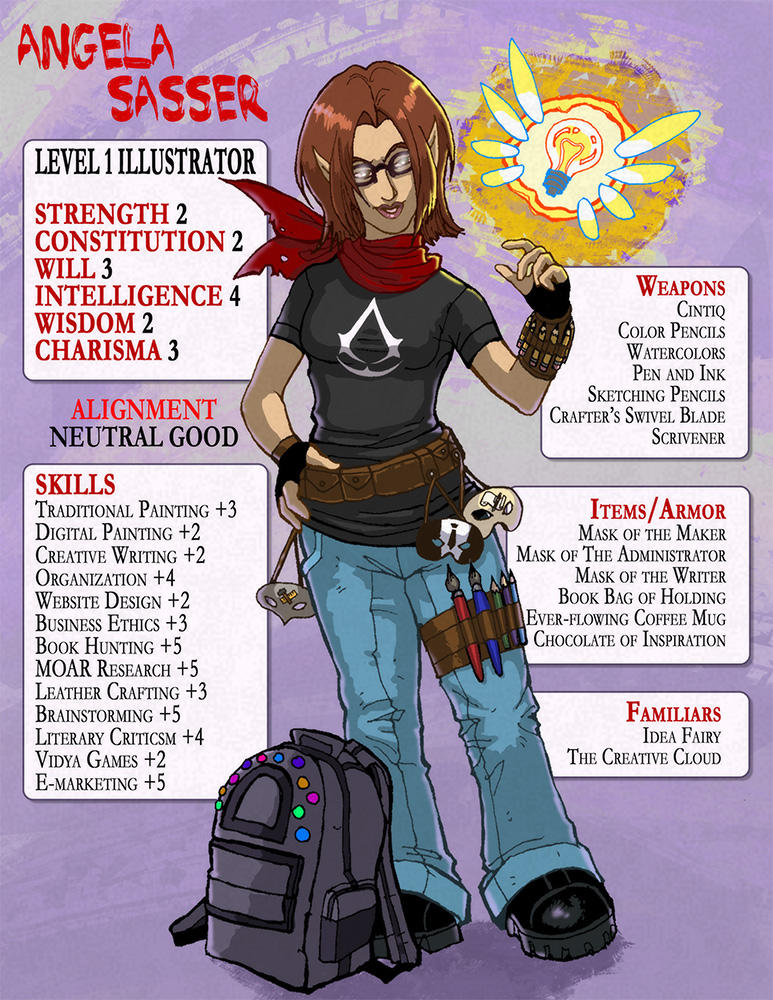 And now for something completely different! My level 1 character sheet for the
IlloLifeRPG
. It's a Facebook group where you can make a fun D&D type of game out of your artistic goals.
This will be my new devID now too! It was about time for a change from
my boring old photograph
. Like any true Ninja, my artist-self has a flowing scarf. She is also armed with a Book Bag of Holding, art supplies, and her faithful companion, the Idea Fairy, who is always whispering ideas into her ear. She's managed to tame this fairy after many years of learning how to keep it from getting overexcited. As a nod to
my leather crafting alter ego
and
writing alter ego
, my art-self can also don different masks which allow her to switch classes.
Yes, there is obligatory Assassin's Creed logo placement since I apparently can no longer hide my obsession with it.
I don't know what possessed me to do this in this style. It's not representative of me *at all*, but at least it was tons of fun! I needed a break from my super SRS art anyways.

Referenced this awesome anime screenshot tutorial for the screencap effect!

Reply
This is awesome! If I had an xbox, I'd be right there with you on assassin's creed

I haven't figured out the quest log =/ Is it a visual log or do you have to use there Google docs way?
Reply

My understanding is that it's a log you can store wherever you want, as long as it's shareable? I bet the Files area in the group would be a good place to put one. I'm still new so don't quote me on that. I think it's a written log too. I imagine you could do little images with your quests if you want, but I see it as a way to take your real-world to-do list and assign experience points for its value to level up your imaginary persona.

So say since I'm a slightly more experienced level 1 artist, my quests are going to be scaled for my skill level. So they'd be something like this:

Tier 1 Quest - Do an anatomy study or warm-up sketch once a day.
Tier 2 Quest - Finish one painting a month for 3 months.
Tier 3 Quest - Publish my first art sketchbook at the next con.
Reply

Dude this is freaking awesome - so much fun!
Reply

*Chortle* Well done, Ang. Sounds like tons of fun.
Reply