Description
I decided I would update this MEME every year with my new work. Just when I feel like I'm stuck in a rut, I glimpse back and realize just how far I've come!
---
Updated with 2021! Read more about it here: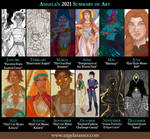 Ever wonder what I was drawing in 1990? Now you know! Here is a retrospective of my art stemming ALL the way back to the age of 9! Just goes to show you that practice really DOES make perfect and that just a few small years are a LIFETIME for an artist.
It's fascinating to see how what I was reading or watching at the time influenced me in waves each year.
LITTLE KNOWN FACT: I only drew in black and white for a very long time before I discovered cheap markers, color pencils, and Photoshop!
---
Original template:
kamaniki.deviantart.com/art/03…
by
Kamaniki
Image details
Image size
2578x3030px 3.01 MB