Kinkakuji (Golden Pavilion) is a Zen temple in northern Kyoto whose top two floors are completely covered in gold leaf. Formally known as Rokuonji, the temple was the retirement villa of the shogun Ashikaga Yoshimitsu, and according to his will it became a Zen temple of the Rinzai sect after his death in 1408. Kinkakuji was the inspiration for the similarly named Ginkakuji (Silver Pavilion), built by Yoshimitsu's grandson, Ashikaga Yoshimasa, on the other side of the city a few decades later. Kinkakuji is an impressive structure built overlooking a large pond, and is the only building left of Yoshimitsu's former retirement complex. The people pictured here are Japanese women who are touring the site.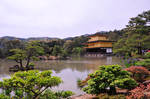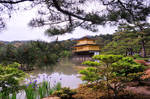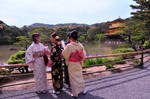 Image details
Image size
4288x2848px 9.67 MB
Shutter Speed
10/4000 second
Date Taken
May 5, 2015, 11:21:51 PM
Hi, Andy, I return after a long time to visit your wonderful works.
Once more I had to change my ID here because I forgot my pass and , me ,unskilful in Computer matter I have always to ask my student to help me . I can go to my old OLIVER-YOUNG ID , but I don't know why I can't be back there . How is your health? I mean You and your family . I hope that all is good for all of you.
I had some surgeries to my right eye , about 8 . I am good , now , of course , I had different concerts ,...
on line , because the Concert halls , until now were closed . I have now to do some " Music Guide "
lectures and concerts , of course now, in the normal way . But anyway , the danger isn't finished .
How is the situation in USA ? Always the masks ?
I wish you , your family and friends the best health and have a wonderful time
My works , for the moment , just few , you can find on Bartsynphony68
Once more , Have a nice time
Radu

I was wondering what happened to you. I hope your password is in a more secure area now.
My health is good. I took the two Pfizer vaccine shots plus a booster. Most of my friends have moved out of the area in the past 10 years. Now, I don't even have a hike partner. Fortunately, I bought a bicycle and can continue exercising with that.
The USA remains very polarized. People who support trump are not on speaking terms with Democrats. And vice-versa. I told people on my Facebook page that if they are trumpanzees, to please get off my site.
Travel has been impossible due to all the restrictions, but I've managed to get a few vacation days in local areas.
Thank you Andy for your answer.
Yes ,this illness made the people to know that united world of solitude , workless ,
many thoughts , some of them , beautiful dreams , some , full of negative meanings .
The music , the letterature , the art of painting , the great painters and poets ,
now the human being comes back to the spirituality and and appreciate much more
the friendship, generosity , the simple ways of being gentle , and have more light
in souls.
I am happy that I found you after long silence .
All good for you , your family and your friends which are still in your area
Radu