37 Favourites
9 Comments
448 Views
Cross an arched bridge and stroll on shaded paths along a koi-filled stream to the Full Moon Tea House built in 1966. The blue tile roofing, imported from Japan, is especially striking in the spring when nearby pink cherry and plum trees are in bloom. Nearby, the minka (traditional farmhouse) was designed and donated by Robert H. Kawashima in 1969. The plant collection features Japanese maples, azaleas, bamboo, and other Asian plants.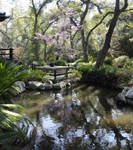 This is next to the tea house
Image details
Image size
7125x2658px 14.94 MB

If someone is not at peace with themselves, such a person would find silence to be horrible because then they have to face what it is that is bothering them - probably their conscience.