Wild Woody
First Appearance: "Wild Woody" (1995)
Age: 1
Species: Pencil
Height: Pencil Hight
Weight: Something
Theme: Yo Ho!Feats
One of the strongest sega characters in existence
Defeated the totem Polls
Defeated Zeus
Apparently Popular enough to win the poll
One of the most shitty sega games of all time and somehow got a K&A rating

Strength
-Defeated the universe level totem polls.
-The totem poll are stated to be able to make parallel universes and he should scale to them.
-Defeated Zeus.
-Stronger than most the the enemy's he fights.
-Bounced around a totem like a basket ball.
Durability
-Survived a multi universe level explosion.
---The explosion shown above destroyed not only the office it also destroyed each individual parallel universe contain within them as you don't see the way to get in them.
----Also the game has several quotes about the totems being able to destroy everything which would include each of the parallel universes.
-Has a surprising amount of heath for a pencil
-Tanked Zeus's lightning tears.
-Tanked being on a sega cd game.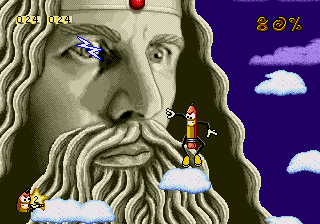 Speed

-Shockingly speedy for a pencil
-Dodged Zeus's lightning tears.
-Dodges Canonballs
-Able to dodge Lasers
-Able to outrun Missiles
Fourthwall Breaker.
-Knows he is in a game and jokes about it.

Eraser
-Able to almost erase anything.
Sketches
-Able to make Anything.
-Not able to create more than one to two at a time then he has to wait to be bigger again.
Cyclone
Kite
Boat
Mermaid Drawing
-Has a a easter egg which is not gonna be in this bio.
Opera Singer
Bow
Boxing Kangaroo
Paper Airplane
-Allows Flight
Toy Horse
Guitar
Dynamite
Weaknesses
-The Cutscenes
-Dumb and also Insane.
-The size of a pencil.
-His size decreases whenever he uses a sketch and he has to wait to be regular again.
-Was on the sega cd.