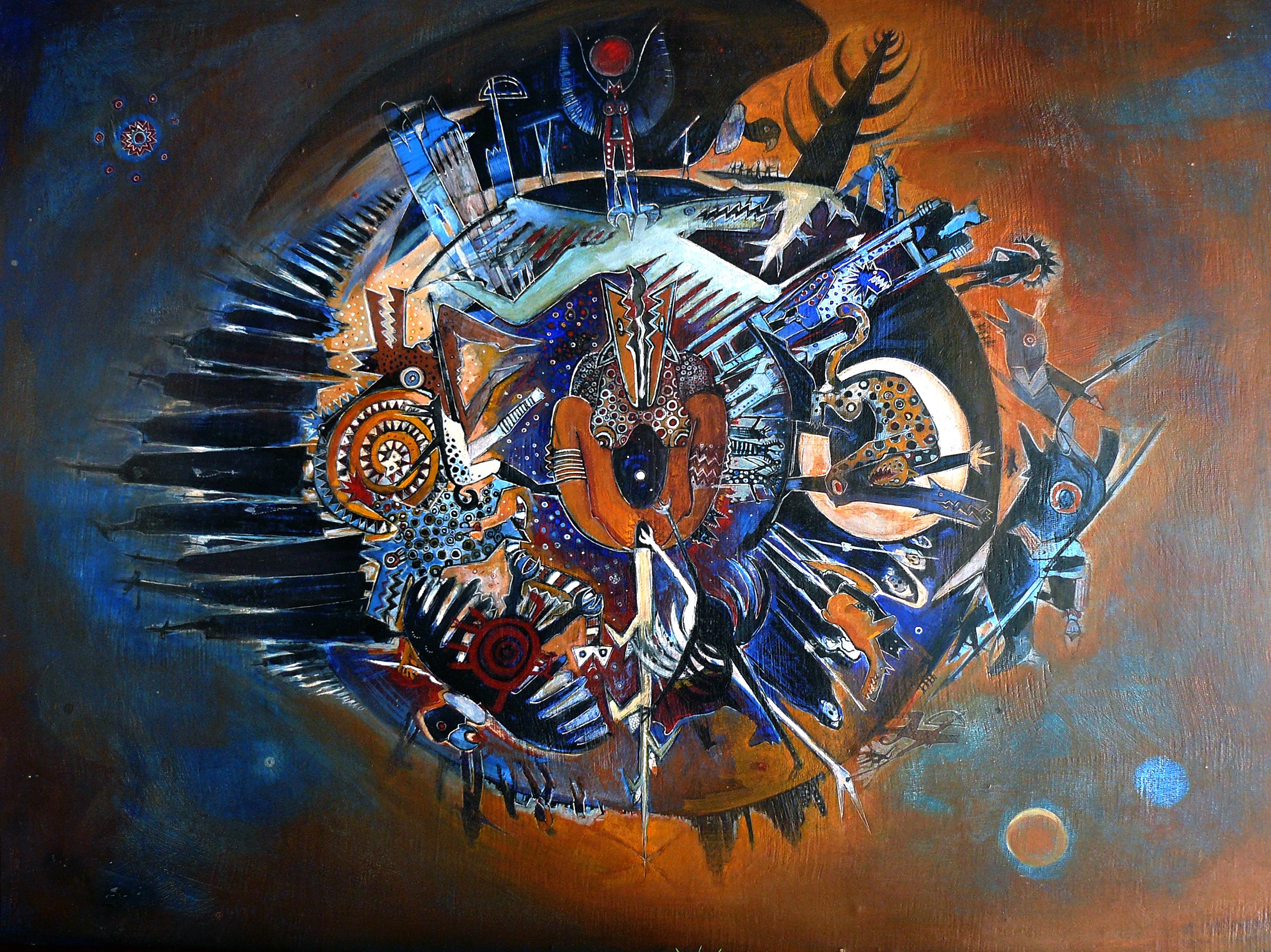 It gives me the impression of everything is contained inside a cell.
And all the elements are interconnected in a cyclical and dynamic way.
I would say ,unity in diversity.
Reply

esta buenisimo!!! me encanto
Reply

me encanta,tan dinamico y tan colorido que hipnotiza...
Reply

Reply

I love this

It makes think of much of my own work

it is so moving and has so many stories built into it
Reply

My goodness, such details and vivid colors that invoke and demand an emotional response. The symbolism is life itself at the core, the cosmos, universe, stars, sun and moon, the animal kingdom and man's role in creating and destroying all of it. The reclamation made by the life of Earth, the vengence upon man's sins, the ultimate balancing of Nature. The contrast between suffering, death and rebirth, life in an infinite cycle, the circle of life never ending. Life always finds a way. I saw the protractor in upper left and thought it might be a 'nod' to dA but see it as a mathematical symbol to our science and technology in this constantly growing, advancing world we're creating. I love this....

Reply

Te agradezco todos los conceptos vertidos sobre mi obra, además del tiempo que has ocupado. Es una de las críticas más importantes y profundas que han realizado sobre esta obra. Saludos cordiales, Andrés.
Reply

Andrés, it is my honor to share my thoughts with you about your brilliant art. I like the fact that you share your artwork in dA and you educate, mentor, and encourage others to free their creativeness from within themselves. I am a lifelong student of cultures, history and mythology. Your art speaks to me in many ways. Thank you, sir

Reply

wonderful!

Reply

Reply

Se me hace muy interesante lo intrincado y detallado de las figuras, hay que tomarse el tiempo para descifrarlas, adivinarlas. Cada una podría contar una pequeña historia.

Reply

Very expressive picture and your style and conception are interesting too) As for me, I love the central figure very much.
Reply